Solution For OMR Recruitment And Selection Using OMR Test Software
We at Addmen Group provide state-of-the-art recruitment solutions in India. We also provide OMR Sheet Checking Software for in-house scanning of OMR application forms and OMR answer sheets by your recruitment team.
We are known providers of convenient end-to-end Recruitment Solutions for managing OMR based recruitment and selection process. Addmen OMR Sheet Scanning Softwares and Services are being used by about 5000 organizations including 300+ government in 20 countries & 400 cities in India. Click here to view a brief indicative clients list of Government Clients using our OMR softwares or online recruitment services, which gives a clear picture of the consistency & reliability of our products & services.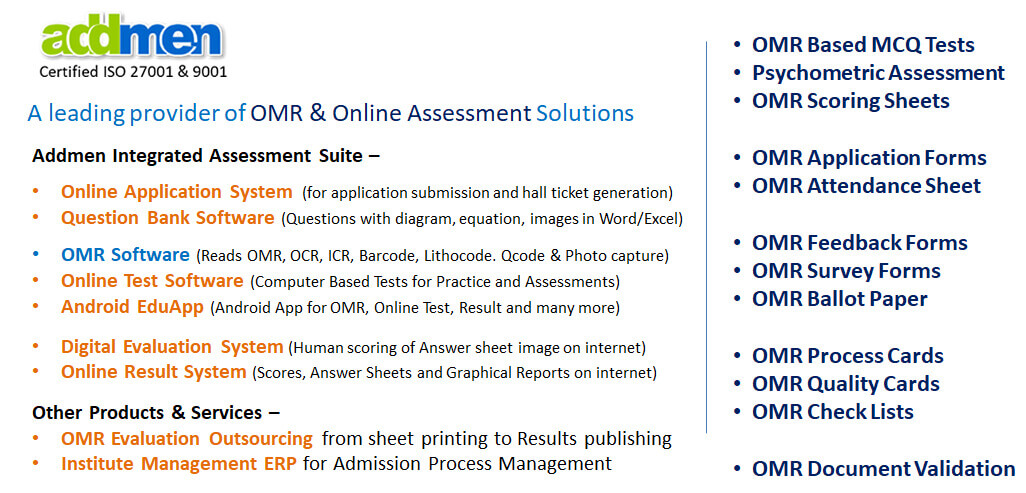 OMR Software Based Solution for Pre-Recruitment Process
OMR Form Designing

OMR Form Printing

OMR Form numbering and Barcoding

OMR Form reading using OMR Form Reader Software and data extraction

Creating and Printing Admit Cards; making them available online for download or sending them by SMS alerts
Recruitment Test Through OMR Recruitment Software
OMR Answer Sheet Design

OMR Answer Sheet Printing

OMR Answer Sheet unique serial numbering

OMR Answer Sheet packing & delivery to client office or test centres

OMR Sheet Scanning

OMR Test checking using OMR Answer Sheet Checker Software

Processing and printing of results

Send OMR Test Results by SMS

Online Exam Results on recruitment portal
OMR Software Process for pen-and-paper based Recruitment test Video
Introduction to Addmen OMR-OCR-ICR Software Solution