AN OVERVIEW OF OMR-OCR-ICR SOLUTIONS
OMR Process has 3 components: Sheet, Scanner, Software
OMR Sheet: An OMR sheet is a technical layout with precise dimensions. The Addmen OMR Software has an inbuilt OMR Sheet designer that can be used to create as many layouts as desired. Any number of OMR Sheet layouts can be created by Addm OMR Software using the inbuilt OMR Sheet designer module.
Although many ready-to-use OMR layout that fulfill majority of common requirements are already available in the software. The user can simply edit these standard templates to add in their Name and Logo.
The user is also independent about OMR sheet printing. The user can either print these sheets in-house using the laser or inkjet printers on their desk or they can get it offset printed locally. There is no specific need of two-color printing or thick paper in most cases.
OMR Scanner: Any scanner that scans can be used to scan OMR sheets. It is not necessary to buy hefty dedicated OMR scanners or OMR machines as per the old OMR scanner based reading technology. Now just any scanner can be used for scanning OMR sheets. It does not matter whether the image has been scanned one-by-one using an manual scanner or automatically using a high speed professional scanner. All the software needs is a scanned image of a sheet designed, printed and scanned as per specifications.
With Addmen software you are free to chose your scanner. The user is free to buy any scanner of any brand, any model form any where they want depending upon their budget and workload requirements.
OMR Software: This is the main component of the OMR reading process for the sake of which you are reading here on this webpage. Addmen provides OMR software solution which is modular so that only the price of required modules is added in your solution. The software process starts after the scanned images are put into a folder.
OMR Scanner based Old Technology V/s OMR Software based New Technology
In the older technology, the OMR Scanner was the prime component where scanning and reading of OMR data was done in the OMR machine itself. The role of the software played a minor role in the process and came into picture only to calculate the data received from scanner after reading.
But in the new technology, the OMR Software is the most important component and performs the task of data reading as well as data processing to deliver final output. Shifting both the major processes of data reading and processing to the software component makes the new approach more versatile, flexible and scalable. Many typicality of the old scanner based OMR sheet reading process like two parse reading for accuracy double check have been easily solved by the the new OMR software based process where it is possible to read the sheet at multiple thresholds in single pass only.
Also the OMR Sheet design process has become much simpler and provides more independence to the end user. It is now easy to drag and drop to design your OMR sheet layouts. The printable and readable layout of the OMR sheet are created simultaneously as compared to previous technology where the printable design was created first and then separately calibrated in a time consuming process.
OMR Software based technology is clearely much ahead and has an edge over the old OMR scanner based technology.
3 types of Optical Reading Technologies: OMR, OCR and ICR.

OMR refers to Optical Mark Recognition, used for detecting black marked bubbles, this technology is fully accurate and reliable and so it is widely used in decisive and critical processes like examination and elections etc.
OCR refers to Optical Character Recognition, used for detecting and reading printed characters, this technology is also highly accurate and reliable to a certain limit, so it is used as a supportive element in data collection process.
ICR refers to Intelligent Character Recognition, used for handwriting detection and reading, and obviously has varying degree of accuracy depending upon the handwriting of the user. So if the input is well formed, then this technology is also a good tool to supplement data collection processes.
Introduction to Addmen OMR-OCR-ICR Software Solution
Advanced Optical Mark Recognition System with added functionalities
Addmen has been providing innovative and smart solutions for organisations having various needs related to optical image processing. Our OMR software (Optical Mark Reader) is most advanced as it is also equipped with Intelligent Character Recognition (ICR) for recognition of Handwriting and Optical Character Recognition (OCR) capabilities for the recognition of printed text. There are several addon modules and functionalities that make our software capable of providing solution for Barcode, Qcode, Lithocode and Image reading requirements all at the same time.
Besides the standard combos of basic reading modules to achieve preset functionality like OMR Answer Sheet Checker for scoring of OMR Answer Sheets, we have also developed various advanced variants for specific needs. The Advanced International OMR software having its interface in multiple languages like Arabic and Russian (Cyrillic).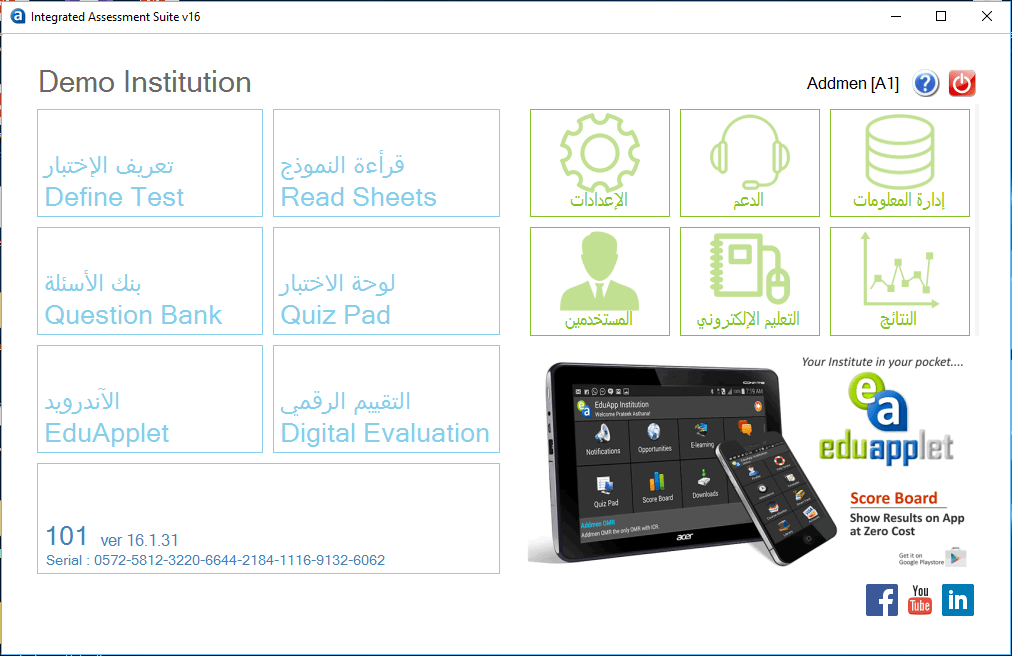 Screenshot of Multilingual Interface (Arabic) OMR Software
Professional OMR Software for high-volume and high-speed processing
We also have Professional version which runs on SQL backend and is capable of fast processing high volumes for heavy workload. Read More
Server version of Addmen OMR Software
Addmen goes a step ahead in providing a server linked OMR solution to organizations with multiple branches or franchise centers. The server client OMR system is a boon to those institutes who want to do the OMR reading and data collection at various location but want to process all the data at a central location. The server-client combo of Addmen OMR allows the client deployments to work as standalone OMR installations and read their sheets locally. The data collected locally at all centers is then uploaded automatically to the central server where it is used for further analysis. Read more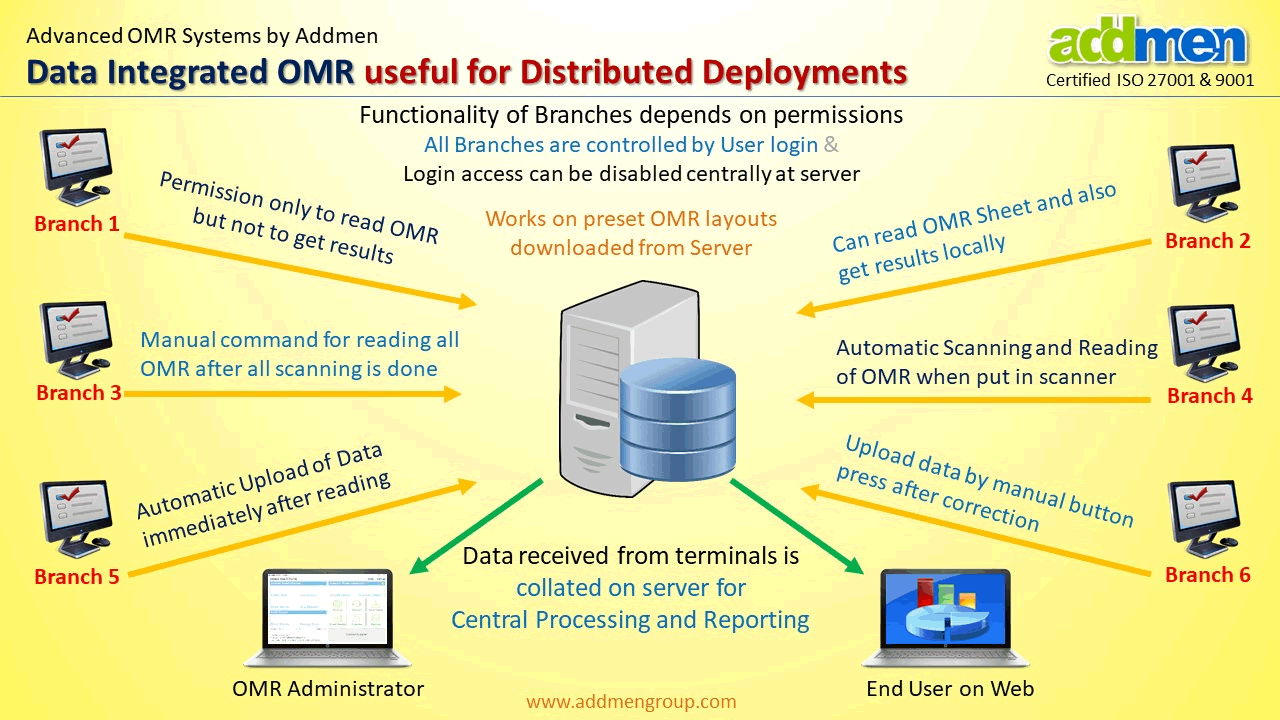 Web based OMR software
An excellent utility for test prep centres offering distance education or online classes or organized on-to-one home tutoring with users spread over vast distances where it is not possible to physically send OMR sheets to the centre for checking after every test. It is also a boon for institutes with large number of centres, but each with relatively less enrolment strength that makes it infeasible to deploy dedicated OMR evaluation system at each centre.
This online OMR Sheet reading tool can be accessed by a distant user over his browser, connected through internet where he can drag and drop the sheet for instant evaluation. The read data is displayed to the user to make any amendments before final submission. The online OMR sheet reader system, based on the backend settings, either responds with only the read data from the sheet or goes further ahead to process and display a complete graphical test performance report with comparative analysis also considering the responses of other test participants.
This system is also most suited for one-to-one home tuition sector, and also to publication houses providing practice question banks for test prep. Read more
Android Based hybrid OMR-Online Exam Quizpad
Android based quizpad is a new evolved form of OMR-Online Exam combination, in which the paper based OMR sheet has been replaced with a digital OMR sheet, for which there is no need to print and scan. The question paper may be provided as a conventional printed paper or may be a part of assignment worksheet or a preprinted practice question bank. But the OMR sheet will be drawn dynamically o screen as soon as the corresponding test is selected. This not only saves the effort in handling of OMR sheets, but also delivers quick results with the efficiency of result processing of a Computer Based Exam.