Online Score Board- The Integrated Online Exam Result Interface
The Online Score Board is a unified result interface of the Integrated Assessment Suite which collects scores input from all sources of examination like the MCQ based exam on OMR sheet, Online Exam, Computer based Test, test on android App and even manually scored subjective answer type tests.
The Online Scoreboard as we call it is actually an online result dashboard which provides an opportunity for the candidate to see his results from home just by logging in to the institute website.
View View Sample Score Reports:
How Does the Online Exam Result Facility Work ?
On the Online Result dashboard, each candidate can view all his results compiled on a single page.
The online Score Board not only provides a summarized information in comprehensive charts but also allow to draw very detailed assessment report for every test.
The online result and processes the scores data to generate dynamic results and detailed graphical reports.
the Online Exam Software is directly integrated to the online Result facility.
Question by question responses to the MCQ question and the online MCQ question paper analysis and graphical performance reports can be generated automatically.

In case of both online exam software and OMR test checker software the Online Exam result facility is able to show cumulative online results from both type of mcq tests and the OMR answer sheets can be uploaded to the online result system using FTP.

A link is given which you can add to  your website  which is directed to the server where you can store your results and OMR sheets and analysis reports and solutions.

The Online result appears as a part of your website.

Your Institute Name & Logo is displayed on the login screen and on the online exam results page.

Addmen is not visible (in website, Logo or name).

Candidate enters his Roll No. on the login screen.


Candidate is directed to the online result page and views his result online in a date-wise arranged tabular chart.

Password can be activated if desired for Institutes who have Online Exam system.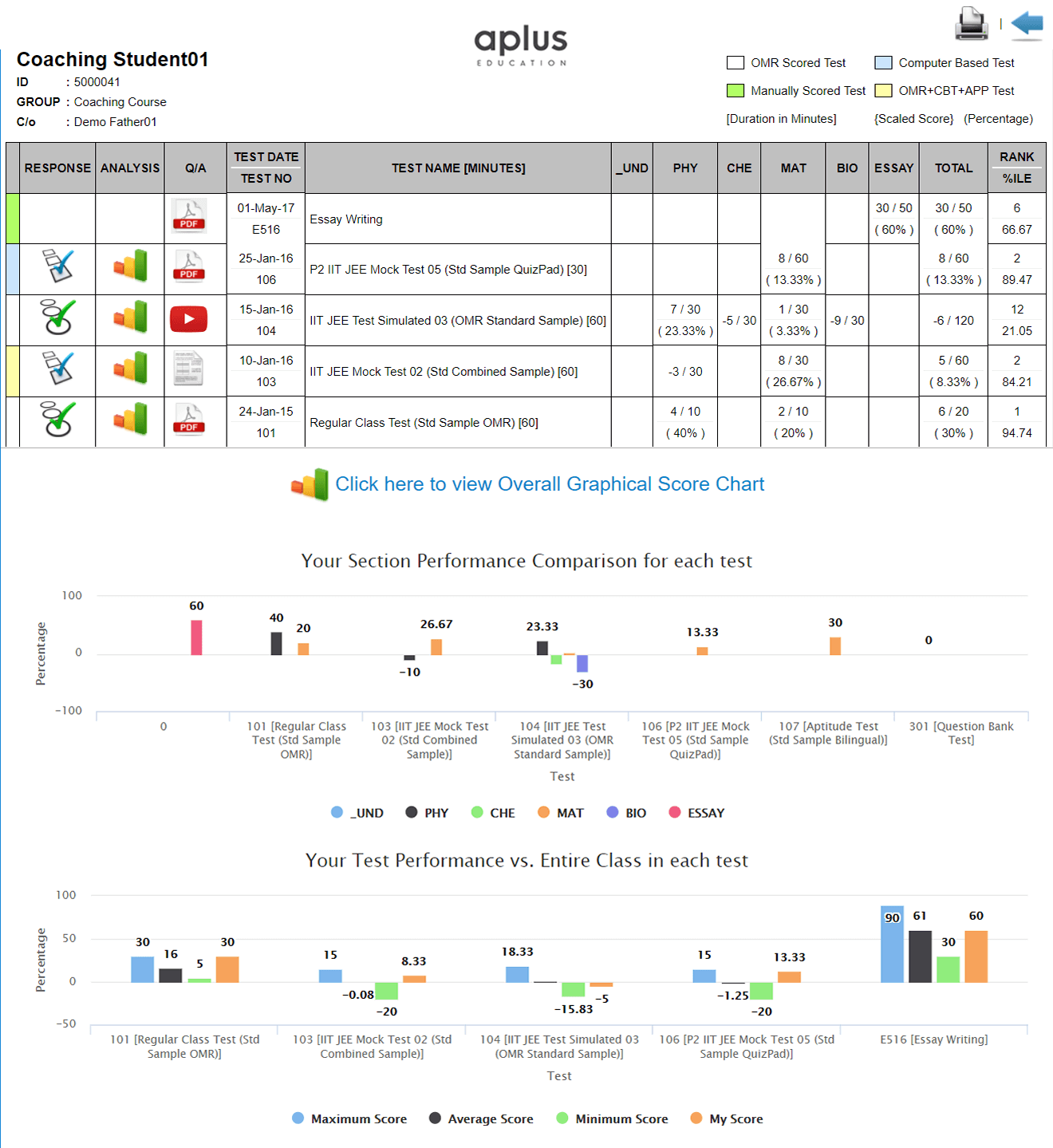 Components of Online Score Board Display
Candidate ID, Name, Parents Name, Batch
Test name
Test date
Subject wise marks
Total/Max marks
Percentage/Percentile
OMR Sheet of the candidate (in case of OMR Test)
Candidate Answer response (in case of Online Exam)
Graphical Performance Report
Question wise Test Analysis
Solutions & Description to Online Question
Online Result Software Price:
Online Exam Result Software System Comprises of
Web based online result software;
Database space for online result records;
Hosting space for OMR/ PDF files;
Online Exam Result facility standard platform is available in two options:
1) Annual Rental charge - In this case the software runs from the Addmen server and you pay fixed amount as per certain minimum number of result records. There are several slabs according to several combination of features.
2) Onetime license purchase - In this case you purchase the Online Exam Result module and host it on your owned server.
Graphical Performance Report Analysis
These are Just Few Pages for Example, there are many such pages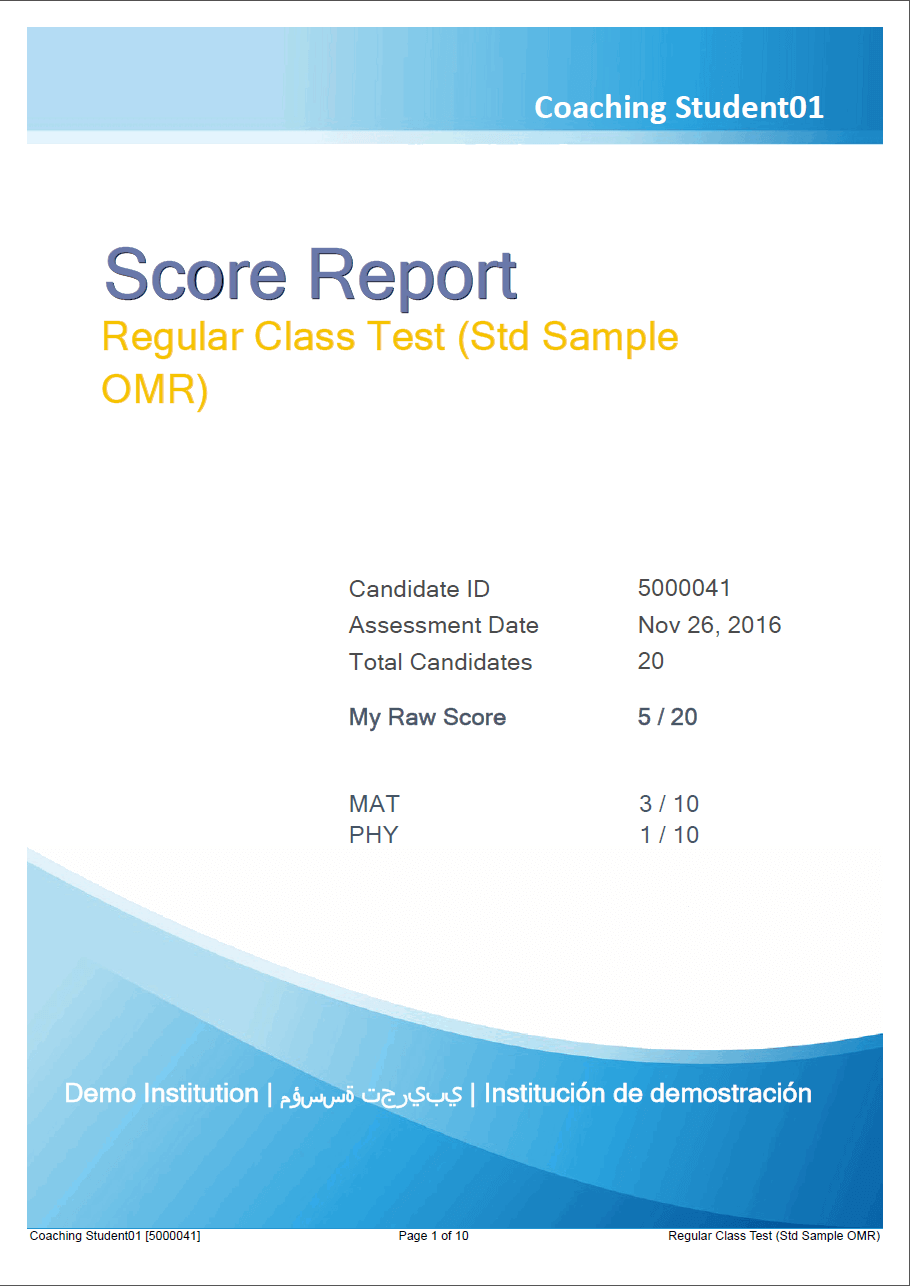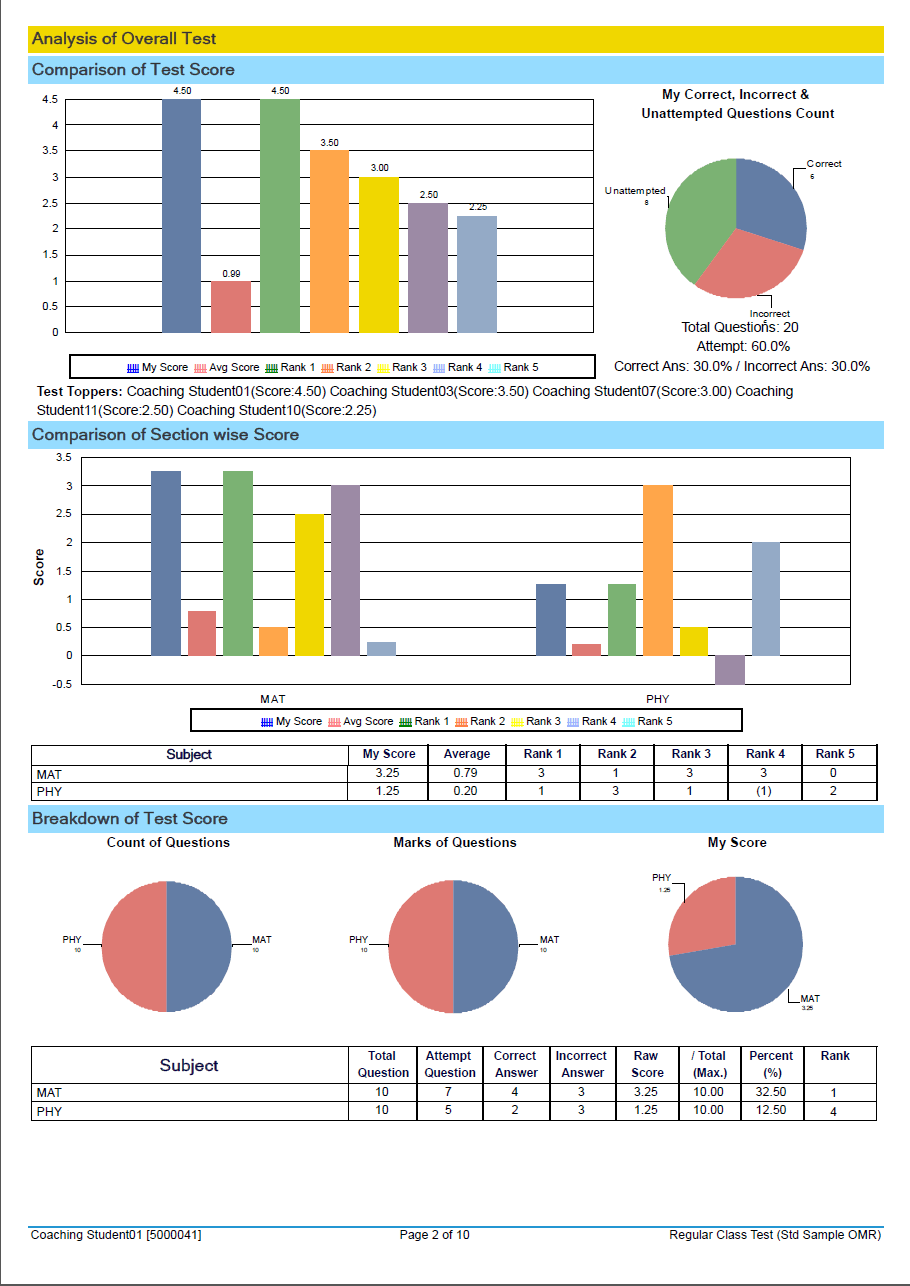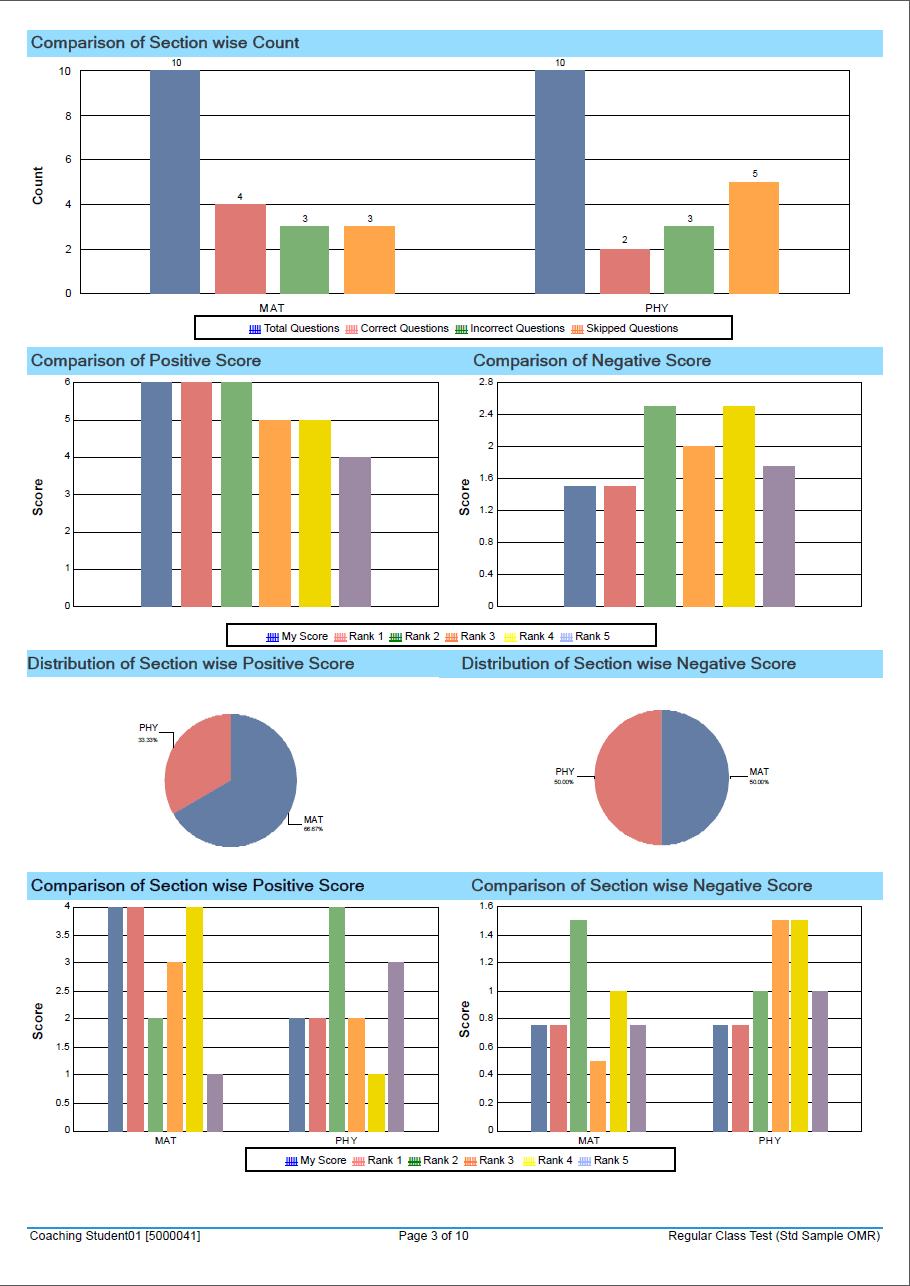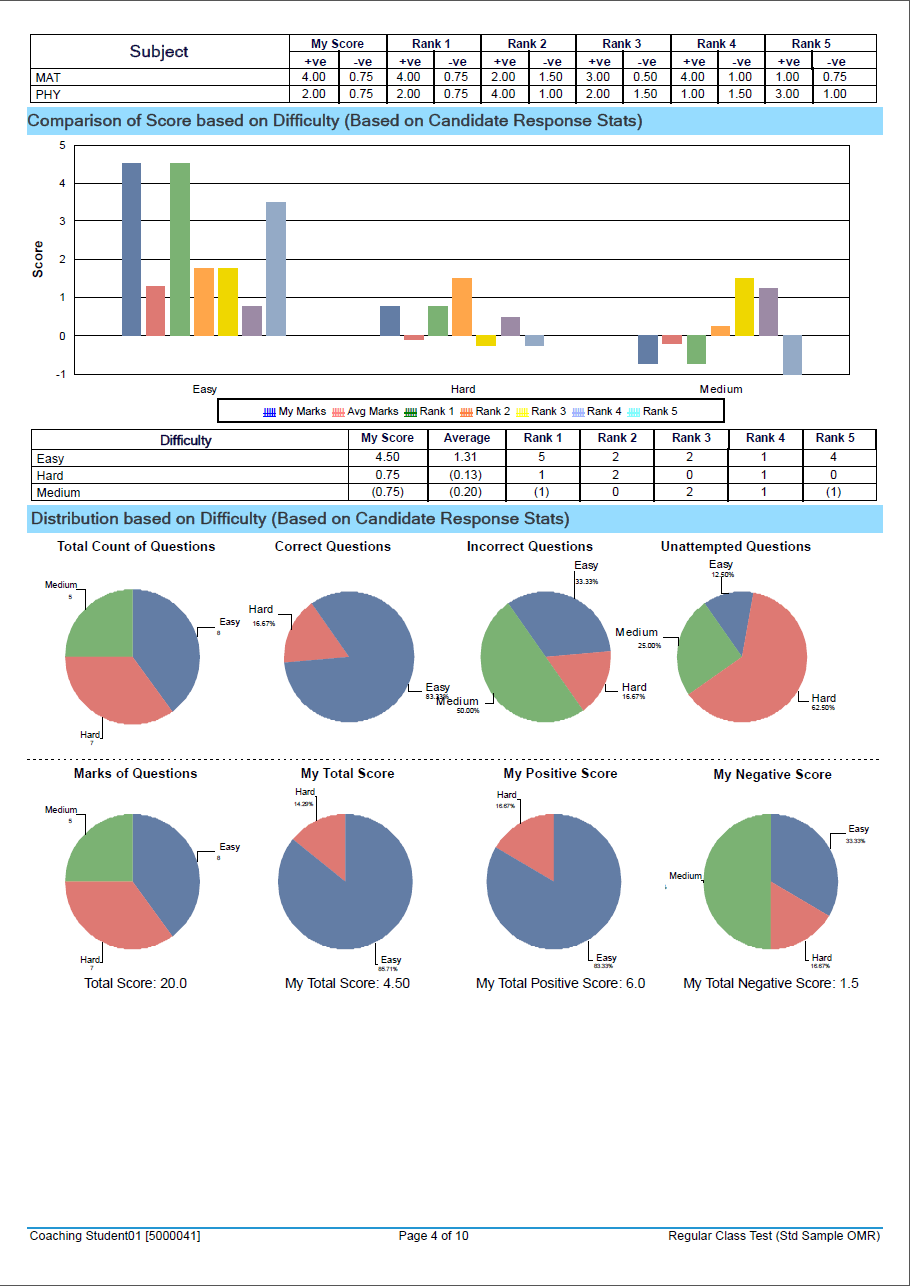 What is the Need of Online Exam Result Facility on Website ?
Our OMR Software delivers quick test results in various brief and detailed report formats. The marklists can be displayed on the notice board, BUT the multi-page detailed test analysis and graphical performance reports of each candidate can not be pasted on the notice board for all candidates.
Giving multi-page prints of test analysis or graphical performance report to each student for each test is also not feasible and cost effective. So we require Online Result facility on the website of our institute so that the candidates can draw the best benefit of the detailed test results and reports provided by the Addmen OMR Software and Online Exam Software.
Why Display of Online Exam Results on Website is Important?
Sometimes for the sake of transparency, government recruitment organisations prefer to provide the candidate a copy of OMR sheet so that candidate is able to match it with the result and in case of any discrepancy they can report back. For this carbon less OMR Sheets are used. But procurement of carbon less OMR sheet is a big challenge for smaller projects. Carbon less OMR sheet is also very costly. So an image of the OMR sheet can be uploaded on the Online result facility.
What is the Benefit of Online Exam Results on Website ?
It is an inconvenience for the parents to come to the institute to enquire about the student performance. So they can conveniently see their children's performance from home in each test and their overall growth in performance in a well arranged tabular chart format.
All these purposes can be very conveniently solved by integration of Online Result facility to your institute website.
Read more: