OMR Reading and Exception Handling
FEATURES FOR ERROR AND EXCEPTION HANDLING WITH CONVENIENCE
Error Handling Facilitation at the time of Reading
Image reading progress is shown with color markers on location of reading.
Different color markers for Blank Bubble, Successful capture, erroneous fill etc.
Allows editing of error filled data at the time of reading in Alert and Manual mode.
Alerts for specific filling conditions like Probably marked, Multiple marked, Overfilled Bubbles, Blank bubbles etc.
(A probable mark is an impression which does not fall under the threshold settings range but still large enough to be considered.)
Alerts on erroneous filling of candidate IDs for Blank ID, Duplicate ID, Invalid Length, Invalid ID not in list, Multiple marked column etc.. It also validates from the list of existing IDs.
Quickly displays original sheet image for reference while alert for duplicate ID or Invalid ID.
Screenshot of Few Settings –Readtime Behaviour, Prompts and Actions, Exception Handling etc.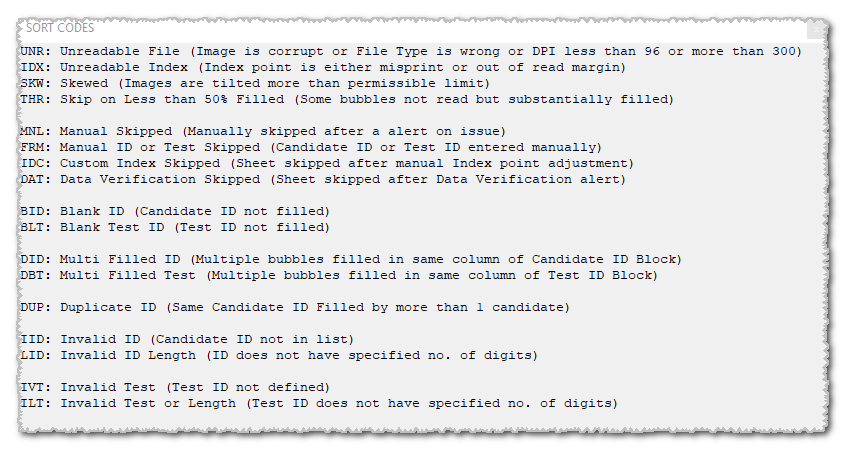 Screenshot of Error Codes – Exception Handling at Read time
Error Handling Facilitation after Reading
Provides enhanced interface for complete data correction with ability to sort as per various issue types like invalid ID, Blank field, Duplicate Values etc.
Displays sheet image for reference while editing.
Professional version has provision for activating multiple terminal for post reading data editing so that reading can be continued on master computer.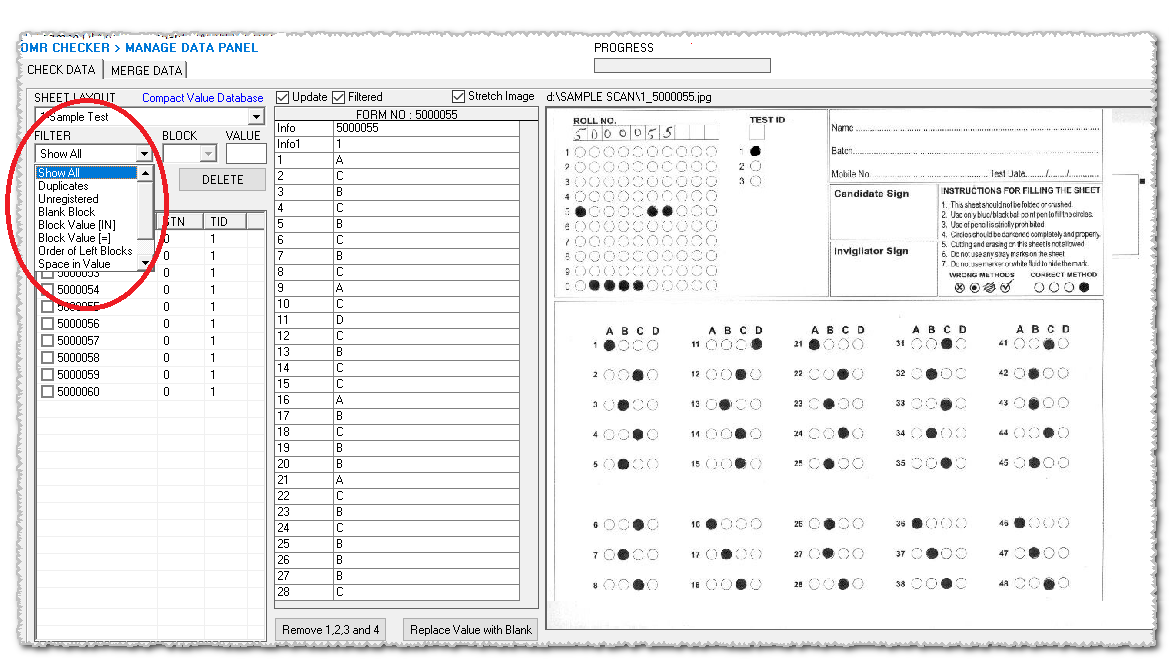 Screenshot of Post Reading Data Edit Interface
Read more: