Server INTEGRATED OMR Software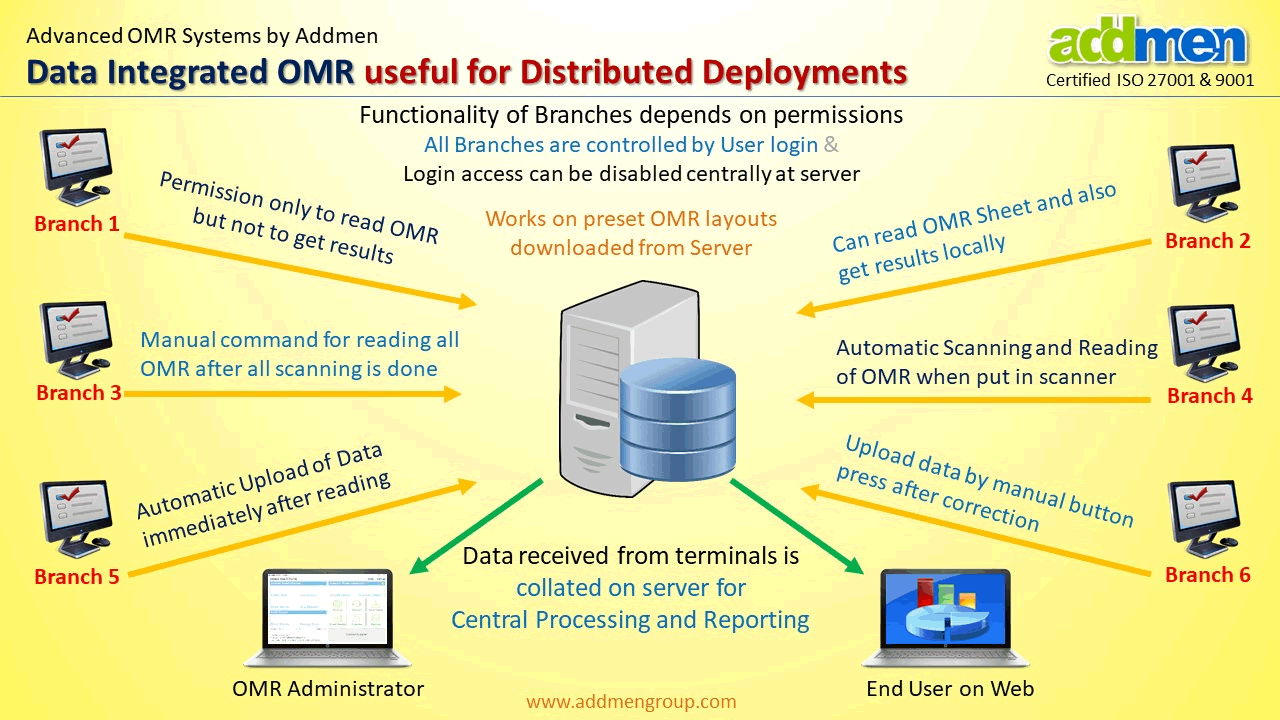 OMR System with Central Data Server
Good solution for test prep classes with multiple centres
The Server based OMR is useful for coaching institutes and test prep classes with multiple centres, wherein they wish to read OMR sheets at the centre level but wish to declare combined results at the institute head office level. The server based OMR is also useful for OMR based election process, where the ballot data is not collected locally, instead, it is immediately transferred to the central server as it is read from the sheets.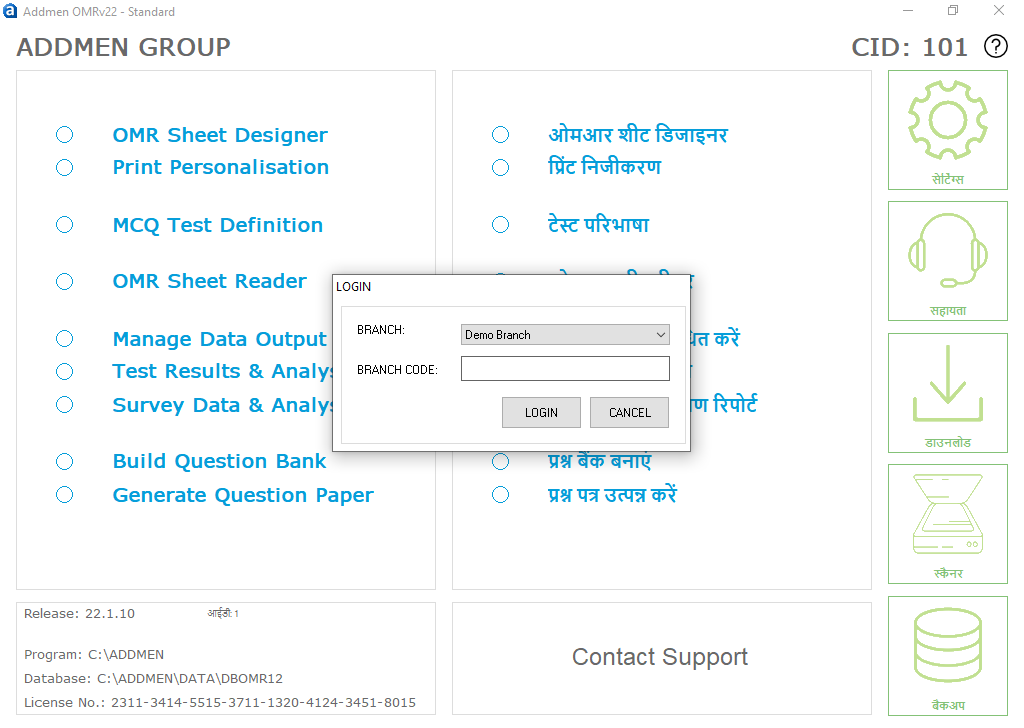 Branches have to Login to connect to server, hence access can be controlled from the Server
Good solution for Distributed data collection projects
Yet another avenue where Server based OMR finds extensive use is with the large scale government or NGO projects targeted to collect data and assess certain parameters at too many distributed locations with the help of field staff. The serve based OMR can be used in all such cases like the facility management services where multiple field agents can post their requirements to central server.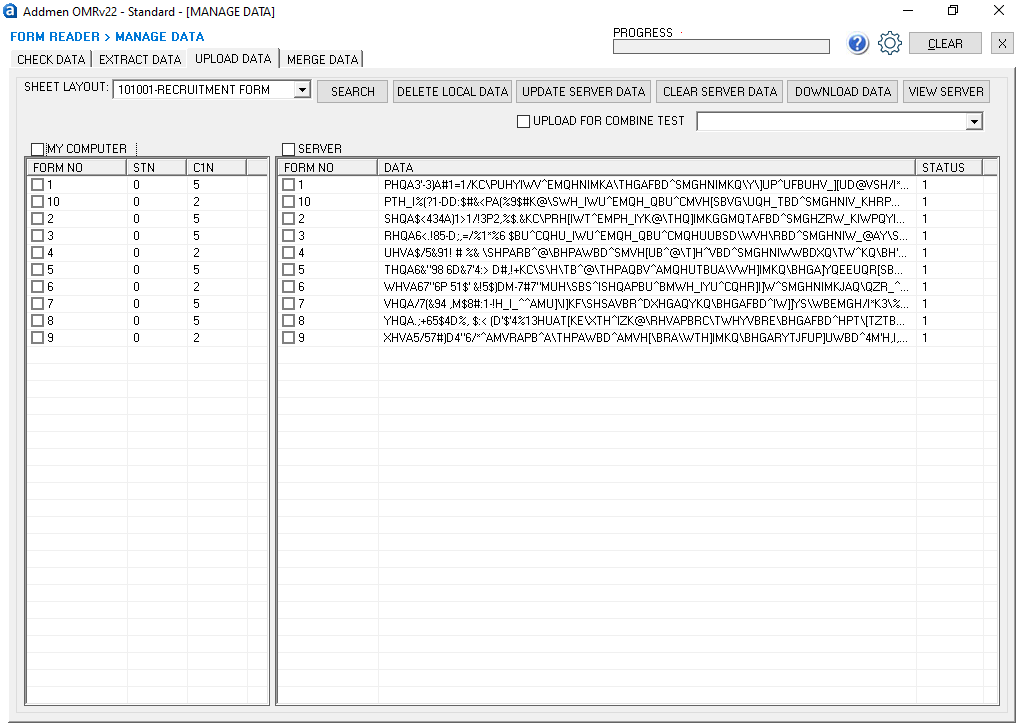 Various controls for Managing Data Upload Process, Data is Encrypted before upload.
Add-on Features for the Server version of OMR Software
The Server version of the Addmen OMR Software has all the above mentioned features of the standard version and a few additional features related to OMR data transfer over the Internet. The open license of the advanced OMR can be used on any number of terminals without paying for the license fee for each terminal.

The terminal OMR utility can be downloaded from the Addmen/your website and is connected to your server with a fixed IP.

The Base License or the Server utility has all the features of Standard/Advanced version OMR (as opted). However, the terminal utility has only the Read Sheet panel and Uploading panel.

Each terminal has a login based access, so that the access can be limited off-project.

Sheets are created at the central (server) location and can be synced with the terminals. So many different layouts can be read by the terminals.

The terminal only reads the data and uploads to the server where it is processed, evaluated and result output is generated.

Data can be uploaded to the client server immediately after reading the sheets. Only data is uploaded, sheets are not uploaded so it involves less data transfer and takes less time.

Photographs, signatures and other images on the OMR sheet can also be read and uploaded. If desired, sheet images can also be uploaded, but that will increase the transfer time and might be prone to disconnections.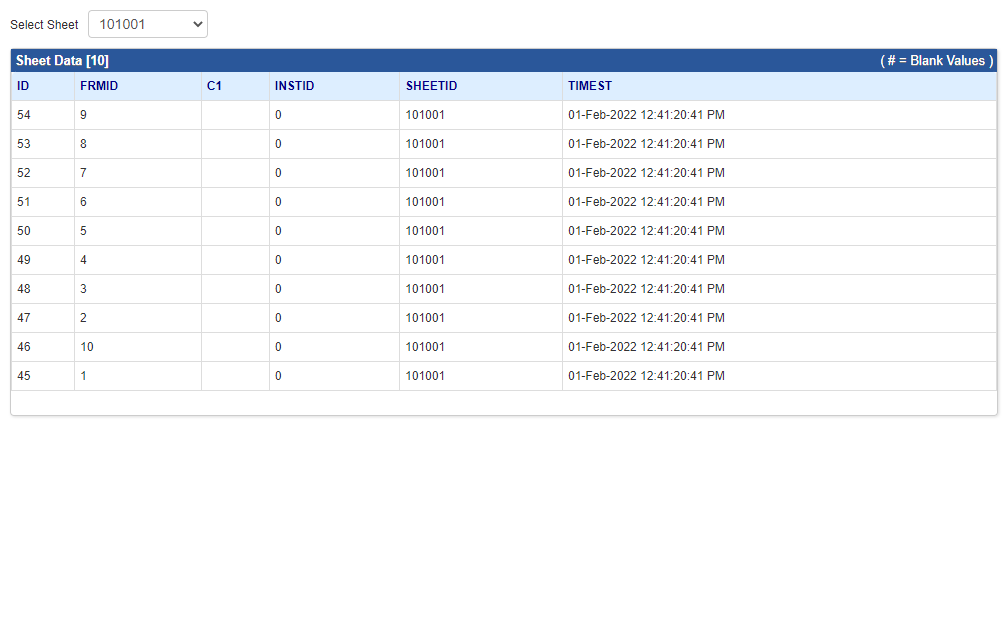 Encrypted Data Uploaded to Server is deciphered by the Server software to deliver useful data
Read more:
Related Links: