Integration of Addmen Software Output with other Software
Some users make use of all features of Addmen Software for their process complete from Sheet design to Generating and Displaying results in various formats.
While some other users already have their Result Processing Software or Institute management Systems or MIS reporting softwares in place.
They only need to get quick and accurate data from the OMR sheet which they will process in their existing software to get the results in their preset formats.
In such a case the user makes use of the popular Addmen OMR reader tool only to read the data from OMR sheets and then use this data to perform their own calculations inside their software which they are already using.
Features for Facilitation of Data Integration
API is available to provide sheet inout and directly receive data into your software.
It is possible to tap the data from accessible database built during the reading process.
It is possible to automatically create an export file in the preset output format without going to the software Data Export interface, and export data manually.
The professional version of the OMR software can directly insert data into your existing SQL Database. It is possible to set the desired path and database name of your existing database into which the software will create its standard output table.
The use of Server Integration Module (PF) even the standard variant OMR readers can directly upload to designated SQL data server.
Data Export Interface after Reading an OMR Form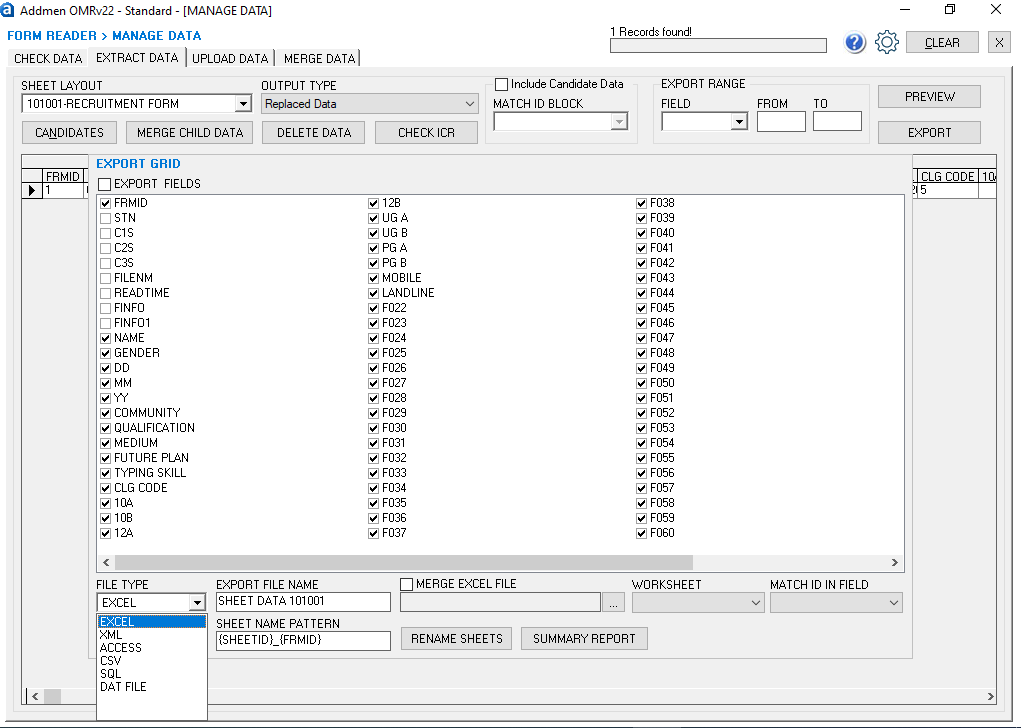 Sample Generic Output for Integration (Excel Format)

Sample Generic Output for Integration (DAT Format)

Some More Variants of Generic Output for Integration