OMR+ICR Sheet Checker Software for CBSE Pattern 2021
According to the latest introduction of OMR sheets by CBSE, it has become mandatory for CBSE school to use OMR sheets and prepare their students to write their answers on OMR sheets. Addmen provides a very simple to use and most economical OMR Answer Sheet Checker software.
The Newly announced CBSE 2021 pattern requires OMR Sheets with ICR, Barcode and Variable Data Printing.
Addmen is the only OMR Software that has built-in ICR for hand writing recognition as per CBSE Term 1 pattern.
Addmen OMR users can add ICR + Barcode feature to existing OMR Softwares.
Independent addon price of these 3 modules is high, But


for Addmen Users these 3 addon features are available at Rs. 10000+GST.

This low-priced enhancement will work only on standard CBSE 2021 sheet.
Institutes having ICR feature can selectively use or avoid ICR in any exam.
If ICR module is not added, it will read only OMR answers.
Free Variable Data Printing facility for Clients having ICR module for printing Standard CBSE Answer sheet till academic session 2021-22.
Ready to Print OMR Sheets
OMR Layouts CBSE 2021
OMR Layouts CBSE 2021
Code
Download

CBSE Sheet with OMR+ICR+Barcode (as per CBSE Guidelines on 6-Nov-2021)

It reads Rollno from barcode
It reads ICR boxes and 5th bubble.
It can be printed with student data using Free facility by Addmen.





112107
PDF
CDR

CBSE Sheet with OMR only

This Layout is an alternative to CBSE for clients who want to avoid cost of adding ICR+Barcode.
It will read roll no from OMR bubbles.
It will not read ICR boxes.
It will read 4 OMR bubbles of omr and 5th cancellation bubble.
No need to print variable data.

112106
PDF
CDR
CBSE Sheet with OMR+ICR+Barcode (112107)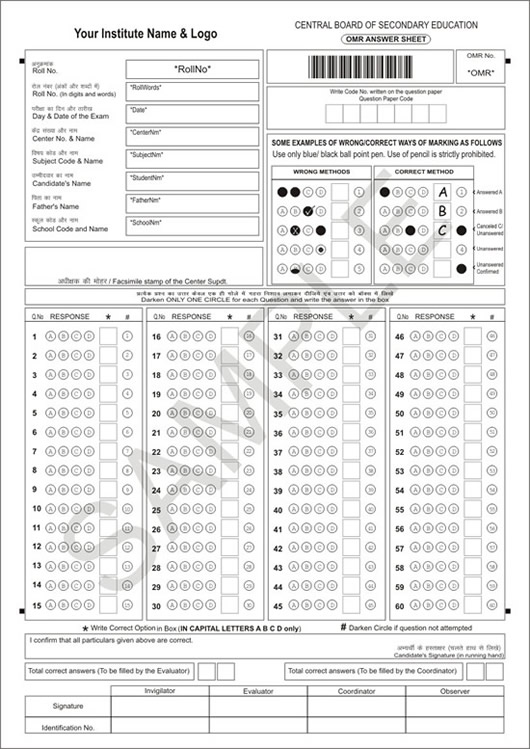 CBSE Sheet with OMR only (112106)
Important Links
More About ICR Feature
ICR stands for intelligent Character Recognition, used for reading handwritten Text. It is a supportive optical reading Technology which is not as accurate as OMR Technology. For accurate reading ICR demands clear letters or numbers written in clear boxes with proper margins. For OMR reading it is very sufficient to scan OMR sheets at 100 dpi while for ICR and Barcode reading it is required to scan OMR Sheets at minimum 150 dpi. Inclusion of ICR reading increases the reading time due to intensive logics for identification of handwriting.
It is important to know that ICR as a technology is not as accurate as OMR technology. Accuracy of ICR is achieved through many guidelines about printing of sheet and writing by the students. Ideally the ICR system requires coloured OMR Sheets for better accuracy. But since CBSE has asked the schools to download and print the final exam sheets themselves, it is most likely that the final answer sheet will be a black and white printout. So we have created the CBSE pattern answer sheet with ICR in black and white with care to fulfill ICR needs. The invigilators should also instruct the students to write their answers in Big and Crisp Capital Letters A B C D for best accuracy.
Multiple Software Options
If you are a single Institute: The Addmen Standard Answer Sheet Checker is sufficient for you.
If you are a Multi-Branch Institute: There are two advanced options of OMR Software.
a) Addmen Server Integrated OMR
b) Addmen Web based OMR System

The Addmen Web Based OMR System is the best hassle Free OMR Solution for your Multi-Branch Institution, offering unlimited scale at lowest price.
Read More: