Error and Exception Handling
About the ability of the software to handle exceptions and errors while reading:
There are many likely cases where the software has to take smart judgements to prompt or resolve the issues due to improper input. This improper input may either be a defect in the scanned image due to faulty printing or faulty scanning OR it may be a mistake done by the candidate in filling the OMR bubbles on the sheet.
Such exceptions are handled in the Addmen OMR Software with a smart combination of preventive Preferences and Settings and curative Alerts and Prompts.
These are many such situations that are handled internally by the software, but few are mentioned below as an indicative illustration.
This Exception Handling and Issue resolution is done at multiple levels
Preset preferences and settings are made to define behaviour of software in case of an issue.
Automatic sorting of faulty input sheets according to preset Sort Codes while reading in Auto mode.
Read time prompts for manual judgement and response while reading in Alert/Manual modes.
Tagging of the sheet/record/cell with appropriate marker to attend and resolve after reading.
Post reading issue filtration and resolution.
Error Handling Facilitation at the time of Reading
Image reading progress is shown with color markers on location of reading.
Different color markers for Blank Bubble, Successful capture, erroneous fill etc.
Allows editing of error filled data at the time of reading in Alert and Manual mode.
Alerts for specific filling conditions like Probably marked, Multiple marked, Overfilled Bubbles, Blank bubbles etc.
(A probable mark is an impression which does not fall under the threshold settings range but still large enough to be considered.)
Alerts on erroneous filling of candidate IDs for Blank ID, Duplicate ID, Invalid Length, Invalid ID not in list, Multiple marked column etc.. It also validates from the list of existing IDs.
Quickly displays original sheet image for reference while alert for duplicate ID or Invalid ID.
Preset Settings and Preference for automatic logical handling of issues
There are various types of settings at various levels that guide the input into correct direction. There are many more beyond what is visible in screenshot.
Screenshot of Few Settings –Read time Behaviour, Prompts and Actions, Exception Handling etc.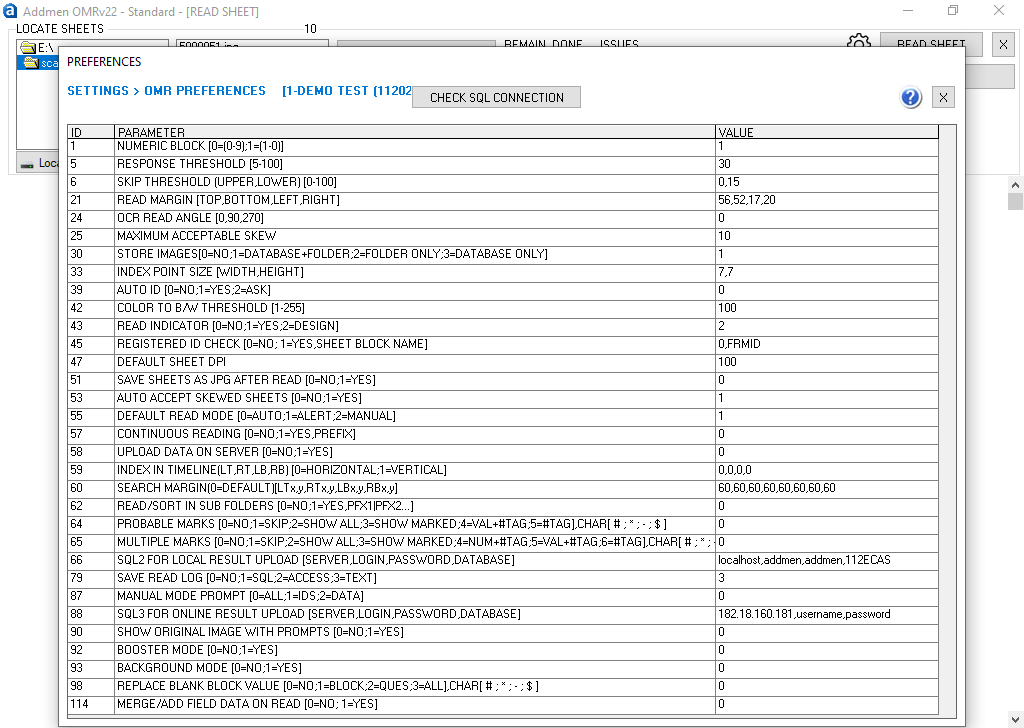 Multiple Modes of Reading to facilitate real time error handling
In Auto mode, a problem sheet is skipped or default behaviour is executed.
In Alert mode the prompt comes on screen and asks to resolve, by entering correct value at the time of reading.
In Manual mode, the software stops for each sheet after reading and data extraction waiting for manual scrutiny and okay, before proceeding to next sheet.
Whenever the software shows a prompt for resolution it also shows the image of the original sheet to make it easy to compare.
Predefined Sort Codes For systematic segregation of Faulty Sheets
Software is able to perform real time scrutiny of various issues at the time of reading.
Problem sheets that are skipped from reading in Auto mode, are renamed with relevant prefix so that they can be collectively select and resolve them.
Look at the following screenshot for List of prefixes used for identification of improper sheets:
Screenshot of Error Codes – Exception Handling at Read time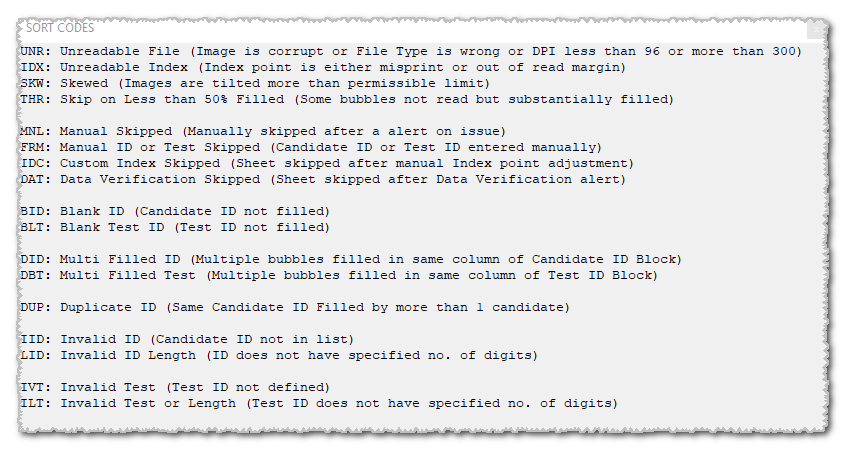 Error Handling and Data Editing after reading
The Addmen OMR Software gives a convenient provision to enlist all the sheets/records that have bean earmarked for a particular issue. This provision helps in saving time while reading and easy resolution of similar issues. Some of the quick search issues are listed below.
Provides enhanced interface for complete data correction with ability to sort as per various issue types like invalid ID, Blank field, Duplicate Values etc.
Displays sheet image for reference while editing.
Professional version has provision for activating multiple terminal for post reading data editing so that reading can be continued on master computer.
Screenshot of Post Reading Data Edit Interface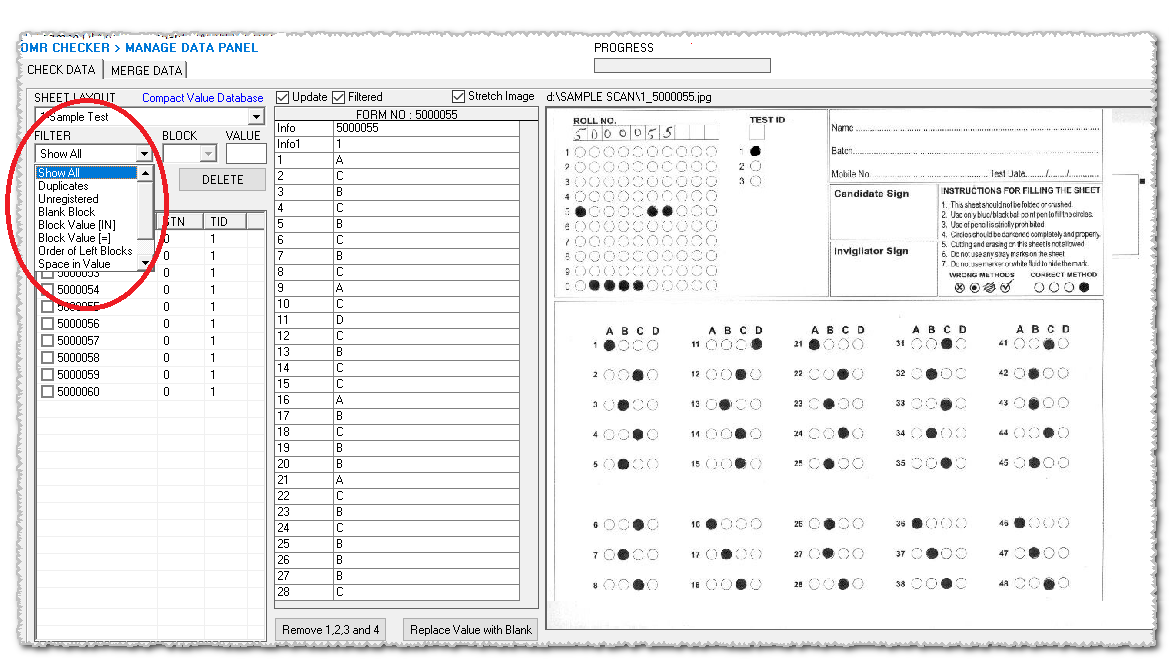 Read more: