Cloud Hosting Cost
There are 3 options for Hosting
Option 1: Hosting on your Lab Server
Option 2: Hosting on a Third Party Cloud Server
Option 3: Hosting on Addmen Cloud Server
Hosting Facilitation for All Onetime License Purchase (All Options 1, 2 & 3)
FREE 3 MONTH HOSTING with limited resources (for maximum 10 concurrent users) is provided on Addmen Cloud server to facilitate Setup and Training.
25 FREE TESTS TOKENS are also provided for practice in case of CBT module.
Options 1 & 2 Hosting in a Lab or Third Party Cloud Server
a) No Hosting Charge- If hosted on your owned Lab or cloud Server.
b) No fixed limit on number of registered users, and Question papers in case of Online Exam and number.
c) Remember that Hosting for Cloud Applications is different from hosting for website,
so your website hosting server may not be used for Online Exam Application Hosting.
d) Refer annexure "CBT(E)-Deployment-and-Performance-FAQs.pdf" to find a suitable
server configuration as per your anticipated load.
Option 3 Hosting on a Addmen Cloud Server
a) All hosting plans include 1 GB standard allocation. You can store as much data as fits in 1 GB cloud space per account. Additional 1GB Cloud Space (HGB) and data bandwidth resources chargeable @Rs. 500/- per month or Rs.5000/- per year.
b) Prices are based on number of Concurrent users (simultaneous users). We assume 10 concurrent users. More concurrent users need more bandwidth at any time.
c) Concurrency allowance is auto calculated by the system. If your account is detected for excessive overuse, it may be automatically suspended temporarily. Which can be reactivated only after manual verification.
d) In case of all Plans, Period Cycle is maintained. Addition of GB space, Test Tokens, User Logins in between a cycle will be valid only till the end of the initial cycle.
e) There is no minimum limit of purchase in case of online purchase through Payment gateway, but in case of other modes of transaction minimum purchase is Rs 2500/-.
Hosting Plans for Online Exams
| Open Mode | Group Mode |
| --- | --- |
| Computer Based Exam focused on User Convenience | Computer Based Exam focused on Test Environment |
| Multiple Tests are created AND multiple Tests are active at a time. | Multiple Tests are created BUT only one Test is active at a time. |
| Any user can login at any time to solve any Active Test of his choice. | Only limited users allowed for Active Test can login at that time. |
| All Admin and other users can login to the system to do other task like viewing results and reports. | Only permitted Admin can login till the time of Test. |
| Price involves wastage. Per Test is costlier. | More economical price. Per test is cheaper. |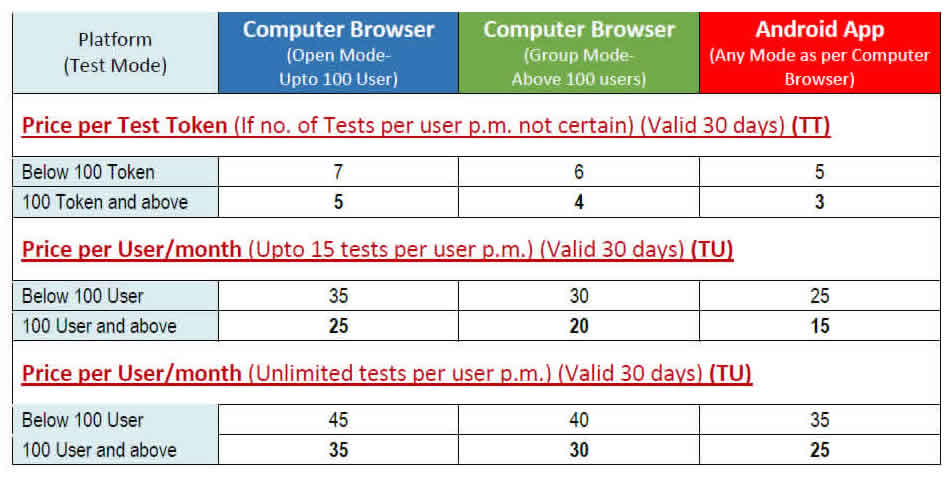 Price will be applicable according to quantity in single purchase.
When one user attempts a test, then one test token is charged.
One Full Test Token is useable for 3 hours. If the test stretches beyond 3 hrs, another token is used.
Purchased tokens must be consumed before their validity. There is no provision for carry forward.
Tokens with shorter validity will be consumed first by system.
One Type of hosting plan either Token based or User based will prevail at a time.
One mode tokens (Open/Group/App) cannot be used or converted in other mode.
Tests higher than 100 concurrency, must be conducted on Group mode.
Hosting plans TT and TU for Online Exam obviously include result hosting of these tests. Analysis of a Test is available for 1 month while Tabular Results are available for 1 year from the date of attempt.
New plan will be applicable only after fully consuming or cancelling the previous purchase.