Learning Management System in Education
The Addmen Online Learning Management system not only provides solution for all online training and learning needs of a digital classroom like video lectures, chat, quiz, doubts, online examination, results, assignments, and attendance, but it also has some most desired features of content security, login access restrictions, multi-platform integration, online course purchases etc.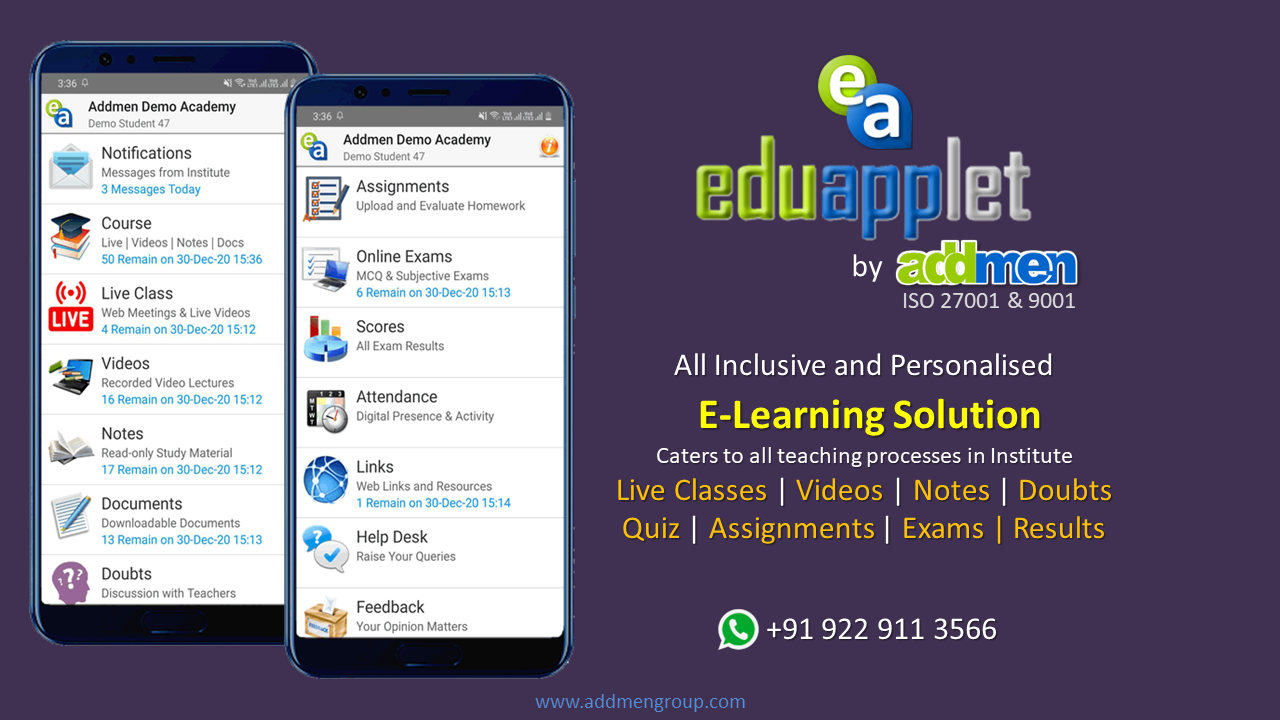 Two platform access on Mobile App and Computer Browser
While most online learning management systems prevalent in the market are app based, the Addmen learning management system provides access through two parallel platforms. This benefits the students by letting them avail the best advantages of both the platforms. Browser provides the advantage of large screen viewing and convenient working, while mobile App provides the advantages of ubiquitous availability and mobility.
Private Branded App
Your App- Your Name, Your Logo, Your Playstore Account
Selective Features Activation for Registered or Guest Users
Ads and Banners posted by Institute
Secure Content
Content is accessible only inside App
Video Link sharing Disabled
eNotes Downloading Disabled
eNotes Printing Disabled
Screen Recording Disabled
ScreenShot Disabled
Access Control
Only Registered Students can enter with known identity, so no nuisance chat during class unlike Xoom
One user can watch only on One Device- One Platform at a Time
Video Lectures for Virtual Class
Live and Recorded Videos
Unlimited Videos, Unlimited Replays
Multiple parallel streaming
Multiple Video Platforms-Youtube and Vimeo
Voice chat during Live class
Live Quiz during live video
Supported with doubts clearance facility
Multiple activity and attendance recording
Online Exams and Assessment
Internet Free Exams
Online Exams for various types of MCQs
On-screen scoring facility for subjective answers
On-screen evaluation of Homework and Assignments
Exam Security and Proctoring features
Online Course Management and Sales
Variable composition of Course content- Same content can be used to create different course packages
Selective Content Allocation to Users
Custom Schedule for Candidates
Payment Gateway Integration for Course & Exam Package Purchase and Fee Payment
Lead Generation and Admissions
Guest user Registration and Lead Generation with limited demo content exposure
Online Application with photograph
Multiple Step Fee Payment
Admission and Notifications
Multiple-Platform Integration
Multiple Video Streaming platforms- Youtube and Vimeo
SMS Server Integration
Payment Gateway Integration
Integrated Results in the Score Board- Results of OMR and Manually scored Tests can also be seen in the Integrated Score Board.
Integration with Institute Management Modules
The system is scalable to offline institute management needs like Fee Transactions, Class Attendance, Lesson Plan, Course Progress, Library Books can be seen on App if respective modules are active in the Enhanced Campus Automation System (ECAS).
Robust Backend Administration through Integrated Assessment Suite
The IAS is an integrated utility for user and content management all from a single interface allowing multi-user secure access based on access rights and permissions. The IAS is a common tool for management of App and browser interfaces and all the features of online learning management system and even more features related to academics and assessment.