E-Learning Video Lectures for Virtual Class
Addmen has addressed the Live Class requirement with a totally different perspective. Rather that developing just another webinar system like Zoom, we carefully observed the needs of Virtual Classroom for Online Classes and the flaws and lacunas of the handful available and thus popular Web Conferencing Systems. We then crafted a video based solution that is not only cost effective but also caters to all the aspects of Virtual Classroom.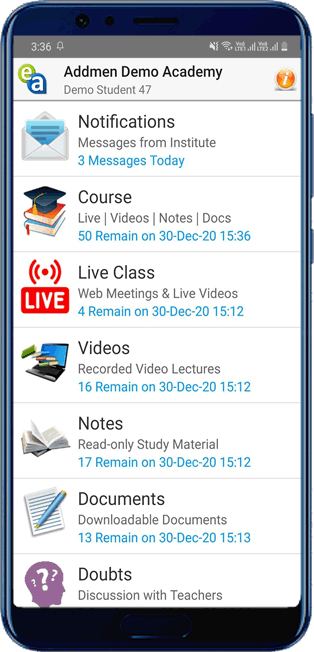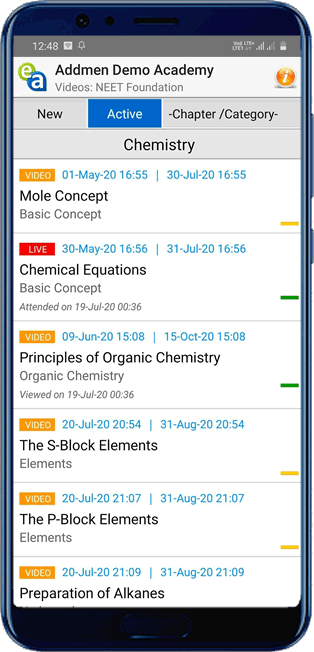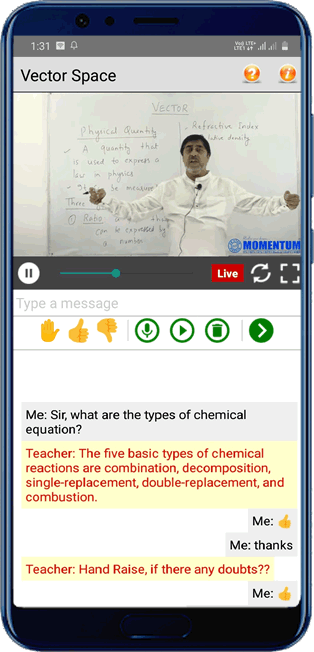 No Limitation Videos for Virtual Classes
No Time Limit. No Viewer Limit.
If you have a class of more than 100 participants, then conducting it through Xoom would be possible only if you have purchased a paid account. But with Addmen Solution for Virtual Class you can conduct Live Lectures for large masses not limited to 100 participants like Xoom. Virtual Class Lectures can be conducted by streaming live videos on omnipresent platforms like Youtube and Vimeo. The free accounts offered by these portals are sufficient to cater nearly all needs of large classes.
Not only this, the duration of the lecture can be decided by the teacher unlike 40 minutes in Zoom Free accounts.
Unlimited Video Streaming at Lowest Cost
Our Approach is Different from a Web Conferencing Systems
2-way video sharing systems have a high running cost because they need dedicated streaming server and high bandwidth. So users have to join portals like Xoom, which have many other limitations.
Mostly, teachers unmute 2-way sharing only for a limited time, so we removed 2-way video to get other benefits.
We replaced 2-way video sharing with Voice chat and Handraise so that single directional video transfer will allow to use Youtube and greatly reduce the cost of streaming to FREE with added benefits of unlimited viewing at zero cost while quality remains unaffected with load. Multiple teachers can stream at no cost.
Multiple Ways of Broadcasting
It is possible to both Camera cast or Screen cast during the lecture. So the teacher and the blackboard can be visible on screen as well as it is possible to cast your screen and show powerpoint presentations and use Whiteboard during the lecture.
The broadcasting can be done from laptop with a camera or directly from the mobile device.
Multiple Concurrent Sessions
Multiple concurrent sessions are possible without affecting the broadcast performance.
You tube has a concept of limits of api hits, so it must be properly understood and planned how not to waste the allowed resources.
Multiple Platform Integration
The Video lecture module for virtual class has multiple popular video streaming platforms integrated like Youtube and Vimeo, which provides a wider choice to institutes to select the best platform suiting their needs.
Attendance, Interaction and Attentiveness in Live Video Classes
The story does not end at Live and Recorded Video lectures. A virtual Class is a class indeed. And so it is important to ensure student attendance as well as attentiveness.
Communication: Voice Chat with Hand Gestures
Users can chat with teachers, not only in text but also by voice. The chat is supplemented by hand gestures like Hand raise, Thumbs Up and Thumbs Down. Use of these hand gestures is definitive and used for recording the activity and attentiveness of a student during live class.
Chat and hand gestures collectively constitute to the Digital attendance besides login and logout times.
Live Quiz during Class
We have complemented the live lecture system with Quiz facility using which a teacher can post topic related questions either in advance or even at real time. These questions can be launched to students either one by one during the span of lecture or at once anytime in between the lecture.
2-way Communication: Chat and Hand Gestures
The Live Class Video sessions are backed with Text and Voice chat system, making it possible for the students to ask questions and at the same time not increasing bandwidth load due to two-way video and audio streaming unlike other portals. We have optimized 2-way communication to minimize the impact on resources and cost, while still solving the purpose.
There are several hand gestures like Hand Raise, Thumbs Up, Thumbs down that mark the students attentiveness and response to what is being taught during the class.
Discipline and Punctuality in Class
Once the student has started to view a video within login time window then he shall be allowed to re-login before the end of the video session. But if he has not started to view the video during the login time window then he shall not be allow to login after the end of login time window.
Wholesome Solution for E-Learning Needs
Just a Live Video Class Session is not enough to call it a Digital Classroom.
Addmen's EduApplet is not just a Webinar System Like Xoom, which focuses only on live Video Chat.
Read a Detailed comparison of EduApplet with Webinar Systems like Xoom and see how this solution is superior in all aspects.
Recorded Videos for Self-paced Learning
The solution is not limited to broadcasting live videos, but the same platform can be used to properly index and store videos for later replay at the will of the student. Needless to mention that self paced learning is an important ingredient of Online Learning platform and this demands for the course content to be available for student at all times for reviewing any number of times.
The Live video lectures can very conveniently be switched over a Recorded Lecture for later replays.
Solution for Academic Doubts
During a live lecture a student can ask his doubts with the teacher on chat. But if he is watching a recorded video lecture late at night then the teacher might not be available at the instant to answer his queries. So it is possible to post doubts and queries while watching any video.
We believe, just a Live Video Class Session is not enough to call it a Digital Classroom.
Addmen's Virtual Video Class is not just a Webinar System Like Xoom, which focuses only on live Video Chat.
Our Learning management system platform offers an integrated solution for most needs of a digital classroom System for the smooth conduction of online live classes with smart class features like live voice text and chat complemented with live online class quiz during online virtual training class and an efficient doubts and problem solving module to form a productive online training and learning management system for students.
Content Security
Screen recording and screen shots of the videos are disabled.
Also the unique UserID of the student randomly flashes on the screen time to time which is a good deterrent to stop online educational content piracy as it helps to identify the candidate in case the content is recorded using some other device.
Quality and Speed Control
The feature for students to be able to control video quality is available in our app. But this feature reflects in video platforms other than youtube, that integrated in Addmen App. As you can see in the attached screenshot, video
This feature earlier also reflected for youtube platform, but sometime back youtube has disabled this feature to control video quality from external players. It sends pre-optimized quality. Although users can control quality on youtube portal but the same facility is not available for external players.
Institutes who essentially need this feature will need to migrate to Vimeo, then the same app will automatically provide that facility.
It is also possible to jump the video forward or backwards by +/- 10 seconds.
Full Screen View with Chat
Videos are visible in fullscreen with minimal icons for chat and notifications.
Learning Management System Modules