OMR Sheet Printing
OMR Sheets are special purpose, technically readable printouts containing circles or elliptical bubbles or boxes used as marking areas where the candidate marks using a blue/black pen or pencil. With the revolutionary technology of Addmen OMR software the OMR technology has become so simple and achievable by the masses that now most of the typicality that we have assumed are already bygone.
Addmen OMR Software gives freedom to the user to self Design and Print OMR Sheets. OMR Sheets can be printed independently by the user using their own resources like laser printers and normal A4 white paper. There is no need to purchase any special OMR Sheets from special OMR printers. The sheets can be printed yourself at negligible cost.
Now you do not need to purchase any specially printed OMR Sheet. You can design and print your own OMRs. OMR Formats used in Addmen OMR Sheet Reader Software are very simple to design and economical to print. Even the OMR sheet cost is almost negligible as you can print your own OMR sheets. But still there are some important components to be taken care while printing OMR sheets.
Color, Quality, and Thickness of Paper.

The colors used for printing sheets.

Suitable method for printing required type of Sheet.

Common mistakes and precautions in printing.
Printing Technology used for OMR Sheet Printing
OMR Sheets can be printed using Laser printer or Inkjet printer. Regular Office rezograph/ photocopy/ network print stations, etc. can also be used to print OMR Sheets by the user himself. If the quantities required are high, then OMR Sheets can be bulk printed in Offset Printing press. There are certain Printing Instructions & Precautions which must be followed.
Thickness and Size of Paper
There is no specific requirement of thickness. White paper of normal thickness 70-80 gsm that we use in our laser printers is usually sufficient. Generally it is suggested that the paper thickness must be such that the paper is strong enough to survive the examination hall and all the latest bulk handling, packing & logistics without getting torn or damaged so that there is no trouble in scanning or reading. Paper thickness has nothing to do with accuracy. OMR Sheets can be designed in small stamp size to a large A3 size. However, generally sheets are designed in A4 size because printers and scanners are reasonably priced and easily available in all offices.
Printing of Colored OMR Sheets
If the OMR filling pattern is the filling of bubbles, then Addmen OMR Software can very well accurately read B/W OMR Sheets. But if the size of a mark to be made is a small tick mark instead of a full bubble, then 2 color sheet printing is suggested so that the outlines of the OMR circles are dropped in color dropping and only the thin mark remains. Colored OMR Sheets can be printed in 2 colors where one color black is essential while the second color can be any color ins the family of pink, golden yellow, orange, red, magenta etc. Light green & sky blue can also be used. Dark colors like gray or navy blue or bottle green should be strictly avoided. Color sheets can be self printed using a color inkjet printer also. But in case of barcode printing on color sheets, if the inkjet printer is used, then the user must ensure that the barcode is not smudged.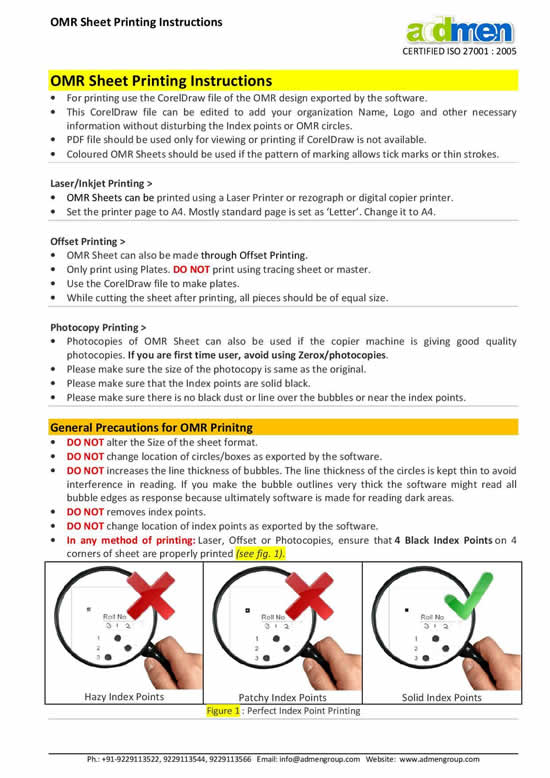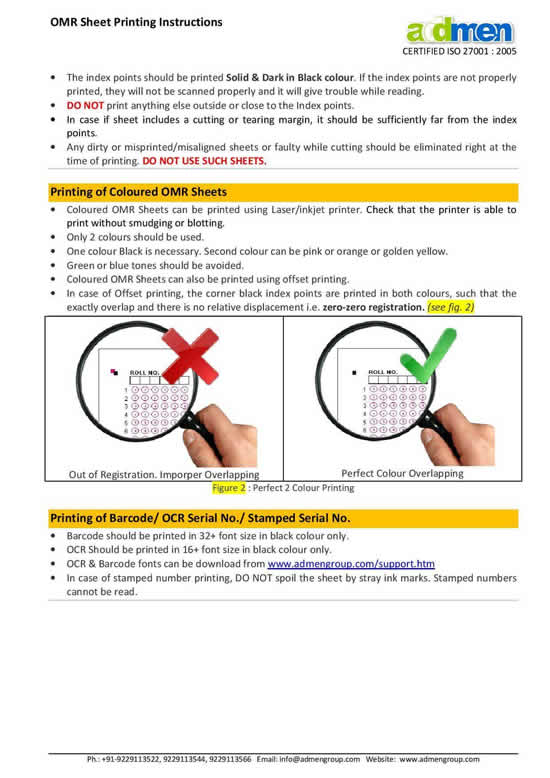 Read more:
Related Links: