Addmen OMR Sheet Designer Software
The people who do not use OMR Software for the most part believe that OMR sheets need different 2 colour printing on thick paper and must be bought from OMR Sheet Printers. This is not True. The truth is that today more than 90% OMR clients outline and print their own OMR sheets utilizing their own OMR sheet design programming.
OMR Sheet designing module provided free along with some other modules like OMR Answer Sheet Checker and OMR Form Reader by Addmen OMR Sheet reading software.You DO NOT need to buy OMR sheet designer independently.
Sheets are made utilizing the OMR Sheet Design Software. This OMR form designer is an important measure of the Addmen OMR Software. There is no different module for this.
When you purchase the Addmen OMR Software, you naturally get the competence for OMR sheet and form outlining.
Sheet Design Part 1: How to Design a OMR Sheet Template by Duplicating Existing OMR Sheet Template?
Sheet Design Part 2: How to Design a OMR Sheet Template from Blank Template?
Earlier, Sheet Designing was a typical task
People who have found in the past how OMR Sheets are created, realize that it is a tiresome assignment. This process is not only lengthy but also inaccurate and the time taken, and accuracy of the results derived varies from person to person. The software which is still based on old techniques consumes time for implementations like designing the sheet externally in CorelDraw and then examining it at a high determination to calibrate the area of every bubble in OMR system. This procedure is lengthy, inaccurate, time consuming and the accuracy is not always the same.
Sheet outlining is still as regular with the various machine based or programming based arrangements aside from revolutionary Addmen OMR Sheet Designer.
Now, Sheet Designing is simple with Addmen Sheet Designer
Addmen OMR Design Software has many features including drag-and-drop feature for instant designing. Addmen OMR sheet design software has a unique feature of designing the old and new OMR sheet. Any sort of OMR Sheets can be made utilizing inbuilt OMR Sheet Designer competence in the software.OMR Application forms and other types of OMR Sheets can be created by using the OMR Sheet designer.There is no restriction on the quantity of OMR designs you can make in the OMR Software.OMR Sheets can be designed and printed in any size from small stamp size to A3 size.
Read Features of Addmen OMR Sheet Designing Software.
Addmen Form Design Software can also used for OMR Sheet Printing.With the help of laser printer or inkjet printer it is possible for you to design and print your own sheets. You can print as many sheets you want without depending on the OMR Sheet Printers.
Glimpse of OMR Sheet Designer Interface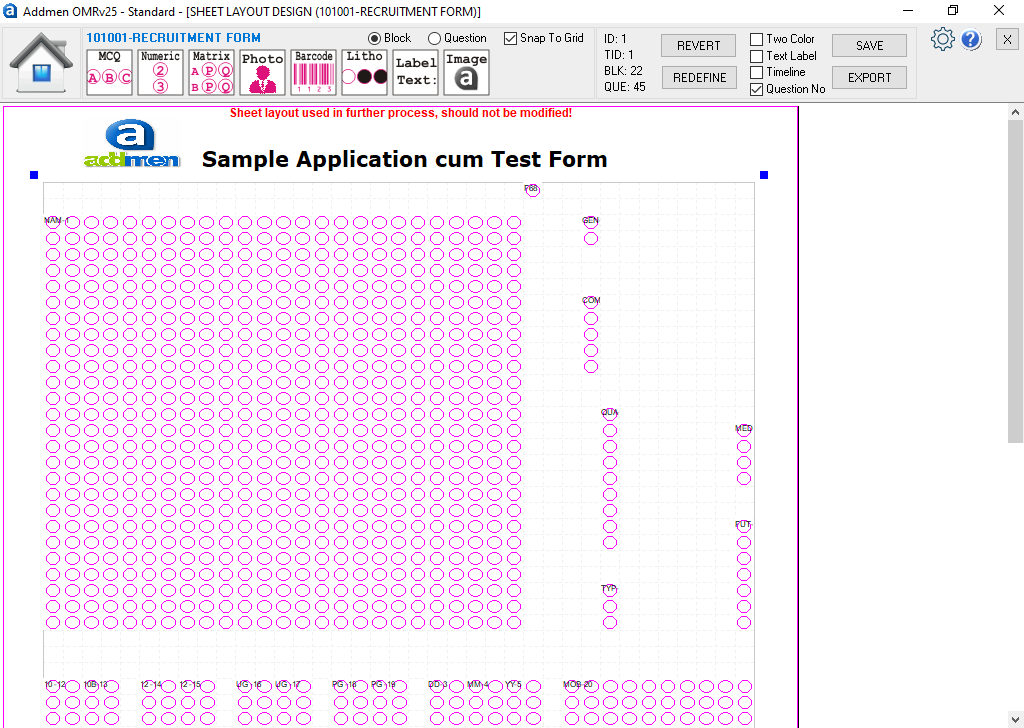 Read more:
Related Links: