Examination Management
Conducting examinations involves various processes like defining tests, review and result generation. It would be so easy on the faculty if one software takes care of all these operations. Using ECAS (Enhanced Campus Automation System) with its so many dynamic modules integrated into it, examinations can be executed without any errors in its operations. Let us see how it is possible with ECAS.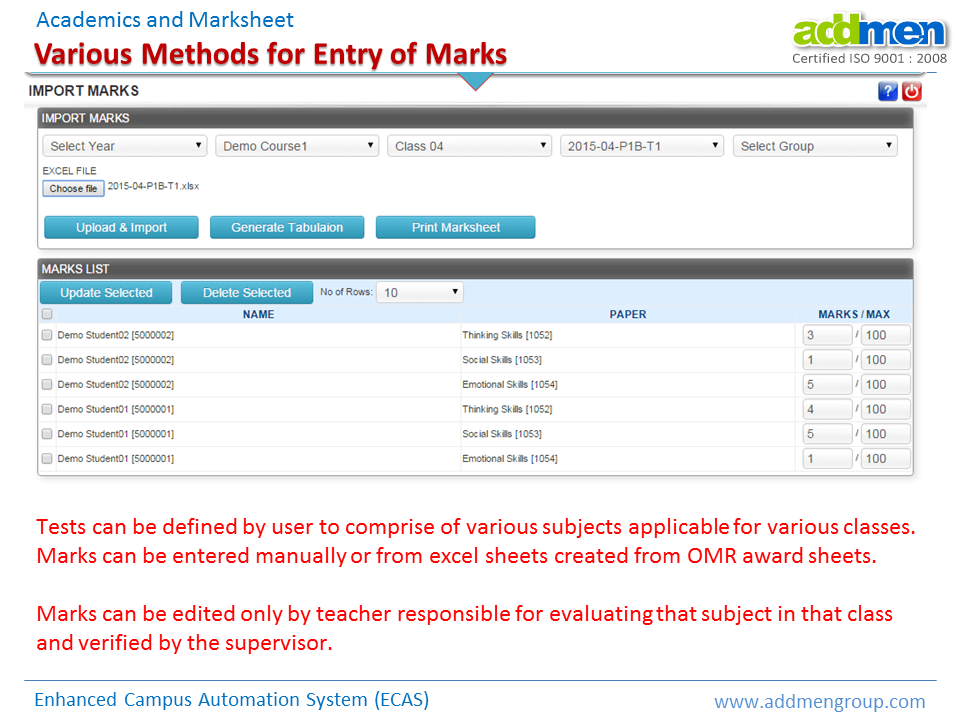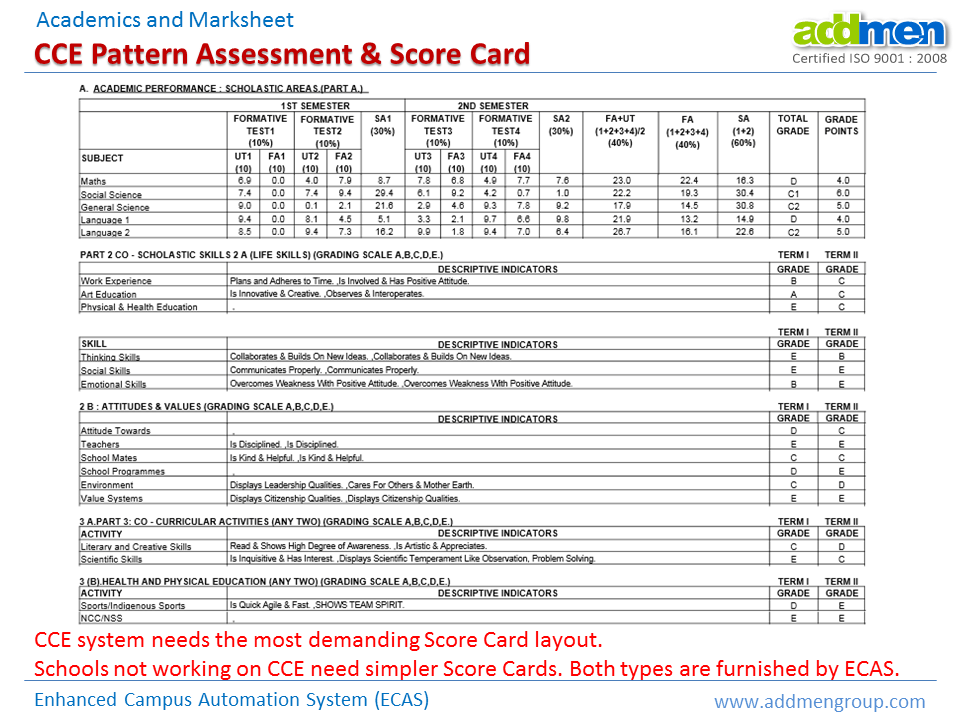 Upload & Import Marks
The database contains all the details regarding examinations scores of students. This needs to be organized and collected categorically which is done from the academic import marks panel.

Selecting from the available search filters, you can upload the database file of students year-wise, semester-wise, batch-wise, subject-wise or in subject combinations.

Importing this file displays a summary of students list with selected field titles.
Mark Sheet Generation
You can select an individual candidate or group of students to view their marks list.

A detailed mark list of students can be viewed in different preview formats.

ECAS provides several layout structures and designs to create your own mark sheet and marking scheme with the institute's name and logo on it. These layout options are suitable for those who prefer mentioning maximum/minimum marks, alphabetical grades, aggregate, etc.

These mark sheets can also be printed in various formats.
Tabulation Register
The academic import marks panel also provides an option for generating tabulation.

A tabulation register is a complete list of examination scores of students conducted throughout their academic history.

This tabular format of marks list is essential for viewing past history of marks and also to analyse the overall performance of students in all examinations.

The tabulation register is generated in Excel format.
Some boards prefer Online Exams and some institutes have online practical tests, scores of which are counted for calculating the overall percentage. Such Online Exams can also be conducted through ECAS (Enhanced Campus Automation System).
Everything in ECAS is automated, so you don't have to carry out a usual examination procedure. Some of the schools, colleges, universities, coaching institutes and other educational institutes are already using ECAS for examination management because it is the best campus automation software.
CCE Pattern for CBSE using ECAS
CBSE has introduced a new education system for students of 6th to 10th grades called CCE (Continuous and Comprehensive Evaluation). CCE aims at evaluating all aspects of students and conducting multiple tests throughout the year without any repetitions in the syllabus in the final exams. ECAS (Enhanced Campus Automation System) is a versatile educational software that is up-to-date with modern ways of conducting examinations. Let us see how ECAS can be used by CBSE schools for this new CCE pattern of education system.
A general set of questions for oral tests can be created from ECAS. These questions can be printed in several formats to use it during oral examinations.

Similarly, home work and class work can be assigned to students in groups batch-wise, class-wise, course-wise, etc through the software. Students can login to their dashboard to check daily assignments.

Teachers can score the class and home assignments and use ECAS to feed the scores of students in the system.

ECAS offers question paper creation of multiple choice questions as well as written theory. Hence, CCE pattern exam papers for CBSE can be generated. This can be done by manually typing selected questions into word file or alternatively by Question Paper Generator Software.

CBSE board also offers an online aptitude test which can be conducted online through ECAS.

The grading system of CBSE schools is different from other schools. Different layouts and designs in ECAS can be used for creating mark sheets to suit the standards of CBSE board.

The scores of CBSE results are calculated from the summation of all tests conducted throughout the year. Such scores can be calculated using the tabulation register generation facility in ECAS which displays all complete examination details of students. It can also be used to analyse the performance of students in detail.

Using ECAS, detailed mark sheets and examination reports of students can also be uploaded on the website for CBSE schools.

Apart from regular type examinations, various assignments like projects, group work, survey, seminar, etc. is supposed to be given to students, documented and graded by schools. In ECAS, all kinds of documents and reports can be uploaded and graded accordingly.
CCE pattern is not just based on examinations but also focuses on student assessment. Through feedback forms and survey facilities in ECAS, this can be achieved effectively maintaining the standards of CBSE board of education system. Some of the CBSE board schools are already using ECAS as their web-based school management software and have hugely benefited by it.
College Exam Marks Management
Examinations are the toughest times in colleges, universities and institutes as they require rigorous approach for conducting exams, its evaluation and documentation. The outcome of these exams is documented in scores which needs to be structured and organized through college management software. ECAS (Enhanced Campus Automation System) is one such college automation system that manages marks list, academic reports, grading schemes, marks statements, etc. Having an internal educational management software like ECAS for customized marks management is important for both colleges as well for students. Colleges can arrange the marks of students in orderly manner. Students can view their progress reports online.
Examination and Marks Sheet Selection
Let us look at the components and features of this college management system:
You have multiple fields to choose from like year, subject, subject-combinations, semester, course, etc. in the IMPORT MARKS panel.

The marks list of the students is listed categorically according to your defined fields.

From the above selected combinations, you can also create marks sheet of students.

There are different layouts and structures of marks sheet available to suit an institute's requirements.

The marks sheet can be uploaded on the institute's website in PDF format where students can view and print it.

You also have an option to generate a complete tabulation register in Excel which will display all the details like name, roll no, father's name, marks of subjects, grand total, percentage, pass-fail status, total marks in each semester, maximum-minimum marks, etc.

The tabulation register is very useful to view the performance of students as it provides you all the details in tabular format.
Benefits of using ECAS
Evaluation of student performance and progress becomes very easy by obtaining marks list subject-wise, course-wise, semester-wise, etc.

It also gives teachers and the faculty to view the marks list of students that belong to their course or subject giving them a brief overview of the syllabus.

Such detailed results can give colleges an analytical view to assess their courses and make necessary changes in the administration for future reformations.

Every institute has their own ordinance when it comes to preparing marks sheet and the ECAS provides several types of layout designs to create marks sheet for viewing and printing.

ECAS helps you create a university management system which lets your students view the examination results online thereby facilitating a smoother functioning of the administration.
Such unique client-based personalization and customizations readily available in the software makes ECAS the best college administration software in the market today.
Exam Definition & Mapping
Reports of this Module
Related Links: