Addmen Institute Automation Modules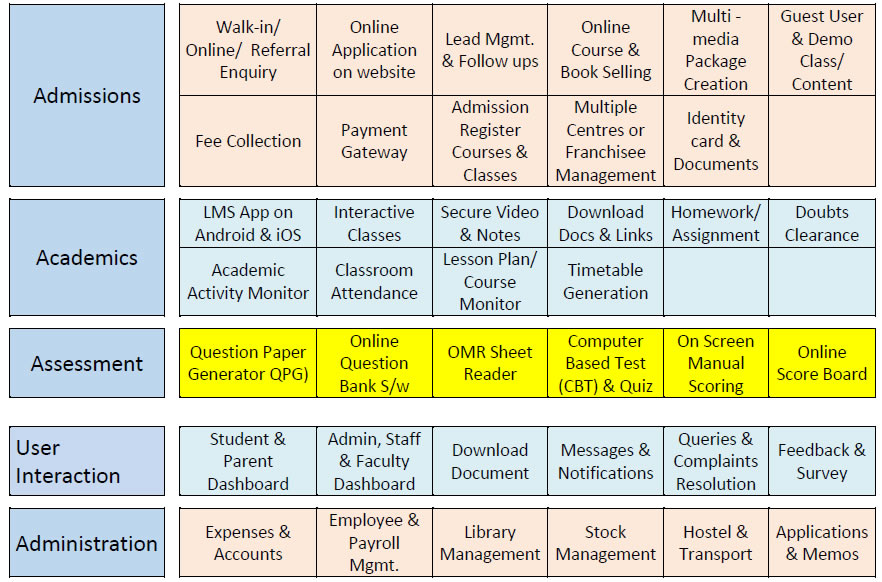 Admission & Fee Modules
Student Admission Register
Candidate's personal information and classification as per branch, course, batch and many other fields. Supplementary Information
Additional information regarding Academic background and Exams cleared, Basic Demographics & Family details, Health & Medical details, Skills & Hobbies, Activity participation… Identity Card, Photos & Signatures
Capture Candidate, Parents & Local Guardians photo from webcam, or self update from App, print Identity cards with Photo & Barcode
Read More..
Enquiry Registration & Follow-Ups
Register online and walk-in enquiries for efficient follow-ups and business analysis Communication Log & Follow-up
Admission Counsellors notes, next follow-up reminders, SMS invites Online Registration Form
Registration form extension for direct application on website/kiosk Enquiry Referrals
Students and Teachers can register and follow their leads. Admin keep a log to reward them for referral
Read More..
Fee Management
Setup user defined instalments & Fee plan, issue Fee bills, Receipts, automated reminders
Draw elaborate and flexible reports like Collection Register, Student Ledger, PDC Checks, Head wise collection, Monthly collection, Defaulter Lists, Advances, Upcoming fee, funds availability etc.
Read More..
Payment Gateway
Students can buy test package from you website and pay fee from within their login accounts. New gateway API integration USD 100.
Read More..
Member Communication & Interaction
Administrator & Staff Dashboard
Create tests, Upload scores, Update Lesson Plan; Reply to queries, Mark attendance, write academic comments, send messages Upload Documents, Results, Videos
Upload study material, assignments and videos lectures etc. Administrative Reports & Analysis
Enquiry v/s Admission trends, Income v/s Expenditure analysis, Comparison of academic performance of teachers or student groups.
Read More..
Student Dashboard
Update profile and contact info, see all notifications and access all features at one place. Downloads
Study Material, Academic Assignments & daily Practice Sheets, Test Schedules, Time-Table etc. Online Exams
Attempt tests enlisted in your accounts, buy more tests, view instant results analysis and score book Instant Reports
My Attendance, Accounts, Course Progress, Online Results and Graphical Performance Report
Read More..
Communication Log
All Notifications, SMS, Emails, Academic Comments, Result Announcements, System alerts at one place.
Al notifications appear on App if app active.
Read More..
Queries & Responses
Queries, complaints can be lodged and responded online.
Read More..
Bulk SMS & Email
Email integration is free. Preset SMS API available free of charge, SMS Credits to be purchased separately (rates as per quantity). New SMS API integration USD 100.
Read More..
Online Feedback & Survey
Build you feedback questionnaires. Collect feedback online. Feedback can also be collected on Smartphone/ Tab if App is active.
Android EduApplet Interface
App with your Institute Name & Logo on Playstore
Notifications, Advertisements/Kiosk, e-Learning Videos, Online Exam, Online Results, Downloads, Queries and Complaints, Feedback, Attendance, Profile, Accounts, Library, GPS Track etc..
Features work as per active main modules.
Read More..
Academic Modules
Attendance
one of Period based / Time log based is included. (Addition of other method USD 200. Preset Biometric data import formats free. New format integration USD 100). Attendance can be marked and viewed on App if App is active.
Read More..
Course Progress Monitor
Create a lesson plan and maintain perfect control on academic progress of all classes and teachers.
Read More..
Time Table Module
Class-Subject-Teacher mapping, availability and hour-load of teachers, Dynamic Time Table and substitution arrangement for absent teachers.
Accounts, Assets and Office Administration Modules
Accounts & Expense Management
Bank and Cash Book, Party Ledgers, Trial Balance
Read More..
Salary and Leave Account
Leaves application /sanction & transactions, Pay bill, Salary slip etc.
Read More..
Library Management System
Cataloguing of books and other media, accession register, circulation linked with accounts to auto post fines on delays and damages.
Limited version of OPAC allowing candidates to search for books available in library and reserve from their online account. Candidates receive notification as soon as the book is available back in the library.
Read More..
Stock Management
Maintain stock books, control indents and item issue based on allocation. Good for Inventory/ Practice Kit/ Study Material Issue.
Read More..
Hostel Register
Read More..
Transportation Register
Read More..
e-Documents (Paperless Office)
Student Profiles (for Placement), Staff Profiles (Updated CVs)
Student Notices, Staff Notices
Note Sheet & Indents, Memos
Correspondence Documents, Submitted Documents, Certificates
Task Register
Read More..
Online Alumni Register
Telephonic Lead Management
involves integration of a third party API, taken up as customization.
Read More..
Assessment Modules
OMR Answer Sheet Checker
Design and print your own sheets, scan using any scanner and get instant results from this software (includes Sheet Designer).
Setup & evaluate MCQ tests, get Graphical and Analysis Reports
Read : B(OMR)-Addmen-OMR-Features.pdf

Read More..
Online Exam System (Computer Based Test CBT)
Upload and administer your own tests, schedule and map them to branches and groups. Test allocation to candidates by default group, or package or by counts or specific tests.
Graphical Reports and Analysis
Online Score Board on Website & App
Read : B(CBT)-Online-Test-and-Feedback-Software-Features.pdf

Score Book Entry of Manually Graded Tests
Grade Book (Academic Score Sheet)
School Pattern/ CBSE CCE Pattern
University Pattern Tabulation Register and Marksheet
Online Score Board on Website & Smartphone App
Results can be uploaded to website where student can see and print scores of all his tests including OMR sheet, graphical Performance, Description and solution of each test. Graphical Reports and Analysis
Detailed Score Sheet, Graphical Student Performance, Graphical Question Paper Analysis, Graphical Comparison of performance of various teachers/groups.
Scores show on App only if app is active.
Tab/Smartphone Based Test & Result Interface
If you have activated the app option, the tests can be attempted from android devices too.
Read More..
Question Paper Generator (QPG)
Read : B(QPG)-Addmen-QPG-Features.pdf
Online Question Bank Feature for Practice Papers
Provision to upload bank of questions using which several test papers can be generated. Dynamic generation facility is provided to student
Read More..