Key Features & Highlights
ECAS is client customizable. It allows the user to create several Branches, Courses, Batches, Fee Structures etc. It allows the user to change the field structure and layout of the Admission Register & Form.
ECAS is dynamic. It has an exceptionally dynamic Searching & Reporting mechanism, which allows you to perform a search using any complex combination of fields used in registration or other modules. All fields used in admission form are automatically included in search pane.
ECAS is manageable. It is developed in .NET, uses SQL as backend and runs on a regular windows NT server. You don't have to deploy a linux server and keep looking for linux developers to sort out your troubles. Much of the importing and exporting task can be done by your in-house team using Excel, Access, XML & CSV too. Reports are in crystal reports in which minor modifications can be done by your own team, if required.
The android App can be freely downloaded by all the students, parents & teachers. Can be used as long as their account is kept live by the institution. Totally replaces SMS & Emailing.

Phone lines can be synced with database to optimize the effort on lead management.

Results can be seen online on website.

Attendance data can be imported from biometric devices.
Multi-tier security
Access is controlled based on a list of Rights & Permissions.

All users are controlled by Super Administrator who has the rights to allot privileges even to the administrator.

Super Administrator > Administrator > Users
In case of multiple branch Institutes,
The Head Office Super Administrator, can make Admin or Users for branches.

A Branch Admin can make Users, work and access data only from his branch.

The Head Office Admin can access data and work in all branches.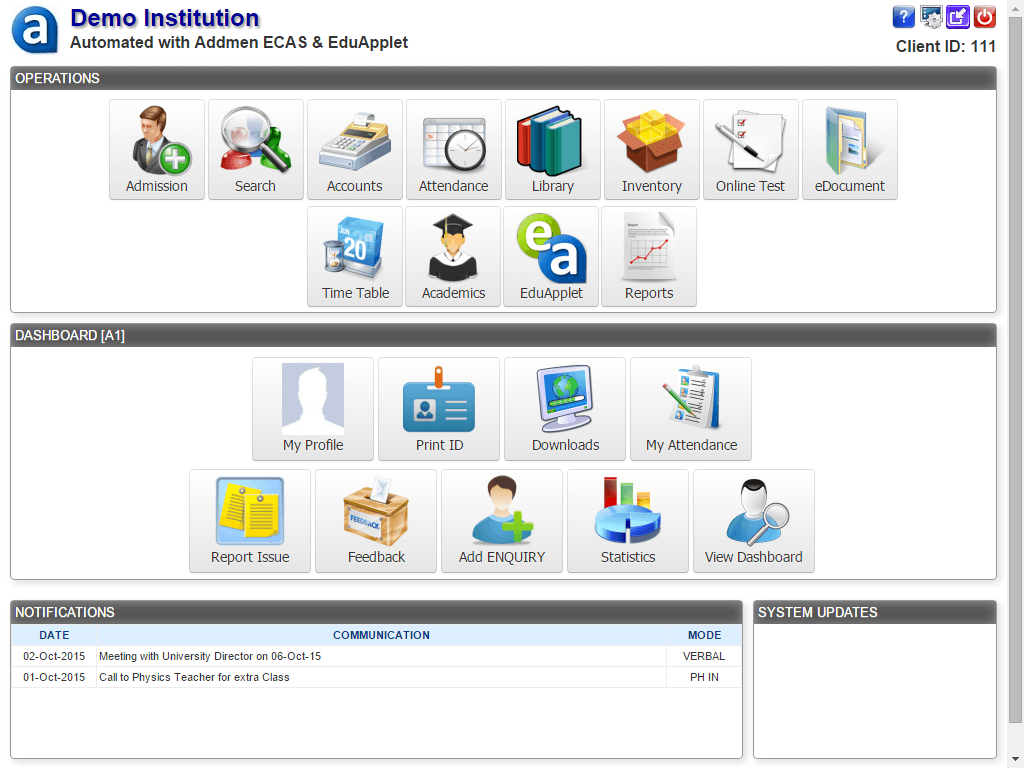 For more details and screen shots of every module & process with explanation, please refer to attached Power Point Presentation.
Related Links: