Scanning of OMR Sheets with Barcode
The barcode is special entity which is used as a unique identifier on the sheet. Some sheets have another identifier blocks like Roll No. Form No. Answer Booklet No. etc. along with barcode. But some sheets do not have any other identifier besides Barcode. Then Barcode becomes very crucial for such OMR Sheet Scanning process because everything depends on the barcode and if the barcode is not read then it would be impossible to identify the sheet.
This barcode scanning is done at a resolution higher than what is required for regular OMR Sheet scanning. OMR Sheets having barcode are scanned at 150-200 dpi and preferably in colour mode. By scanning in colour mode, we get the flexibility to eliminate unwanted dirt and scratch marks plus the edges of the barcode are also scanned fine. On the other hand, if the barcode sheets are scanned in Black and White (1-Bit) mode, then it is quite possible that the edges of the barcode do not come clear at the time of scanning and the barcode on such a sheet is not read due to smudging of a barcode image.
Addmen OMR Sheet Scanning Software has a feature to rename the scanned image of OMR Sheet of the barcode. So all the sheets when they are read by the software are renamed and hence properly arranged by the order of Barcode unique key printed on them. Rarely in case some barcode is not read properly, then the sheet is left as it is by its original name and thus it is very convenient to locate such sheets.
So remember to scan OMR Sheets with Barcode at a higher resolution and preferably in colour mode.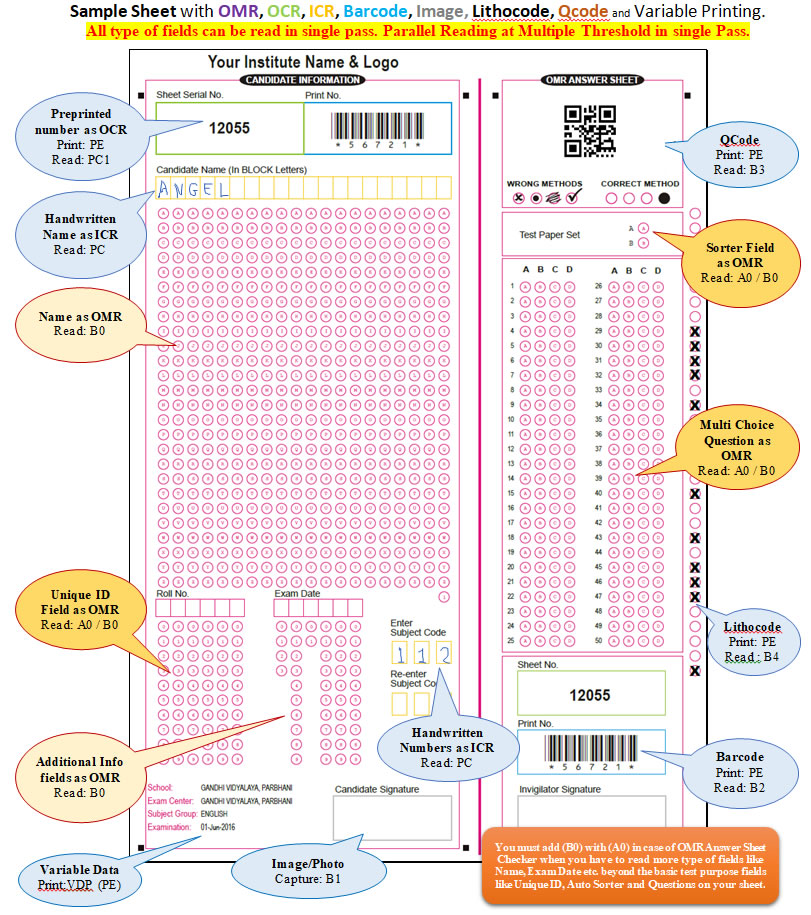 Read more:
Related Links: