Comparison of OMR Scanning Machine with OMR Sheet Scanning Software
People who want to buy Optical Mark Recognition Scanner for OMR sheets scanning mostly think that a special OMR Scanners or OMR Machine is required for OMR Sheet scanning. BUT this is a misconcept.
In the old technology special OMR Scanning Machine was used for OMR Scanning. BUT now with the advancement in OMR Scanning Software, special OMR Sheet Scanner or OMR Scanning Machine are not required.
Most people are confused regarding the cost of OMR Scanner.
Generally they know that OMR Scanner is a costly machine which is made specially for the purpose of OMR Sheet Scanning.
But the OMR Machine was required in old OMR Technology.
Now, in the new OMR Technology you can do the same task using simple Image Scanner and OMR Sheet Scanner Software.
OMR, Image Scanner v/s OMR Scanning Machines
1. New OMR Technology based on OMR Software (New Process - Recommended)
It uses a regular simple image scanner to scan OMR Sheets and later the processing is done by OMR Software. Flatbed or ADF Image scanners are available everywhere at very reasonable price.
2. Old OMR Technology based on OMR Scanning Machine (Conventional Process - Obsolete)
It uses high speed OMR Machine which has a built-in OMR scanner and OMR data processing software.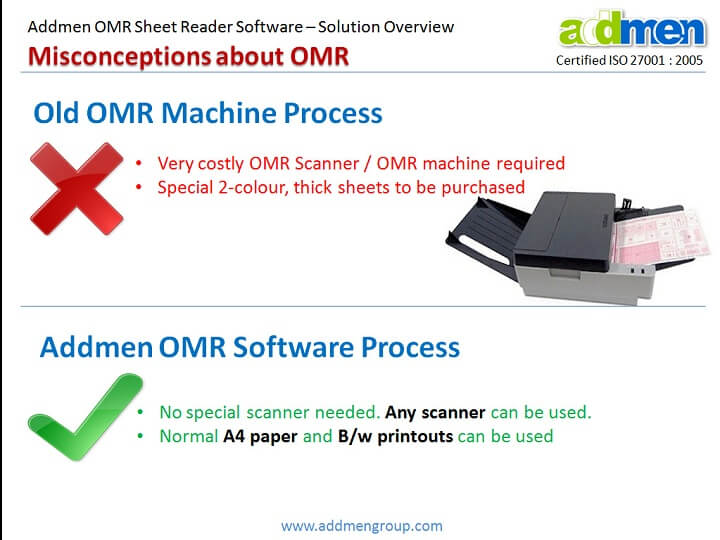 Read more:
Related Links: