OMR Sheet Scanning Services
Addmen offer OMR scanning services in India and one stop solution for the complete OMR process, right from OMR Sheet Designing to declaration of results.
Besides selling the OMR Software to organizations, we also provide a complete outsourcing solution for your OMR based recruitment process.
Experience of 16 years and hundreds of projects.
Multiple units of High speed scanners that can deliver scanning speeds of up to 10000 Sheets/hr.
Carbonless OMR Sheets also available
Image processing capability of up to 100,000 sheets per day.
Facility to declare online Results with Online OMR Sheets
Services pan India for client side evaluation.
In-office evaluation also available as an economic option.

However project outsourcing may vary from Recruitment or Internal Assessment Exams, School Contact Program Assessments, Organisational Elections, Marketing Survey etc.
Designing & Printing of various types of OMR Sheets:
We design the sheet based on the client requirement, which is printed after approval.
Colour : We provide Single Colour (Black) or Double Colour (Pink & Black) or Multi Colour OMR Sheets
Sides: We provide Simplex (Single Side reading) or Duplex (Double Side Reading)
No. of Copies: Single Sheet or Carbonless OMR Sheet with 1copy or 2 copies. Carbonless OMR Sheets are used to maintain transparency in the OMR, process, where the candidate can take the second copy with him.
Barcode & Lithocode: We provide OMR Sheets with Barcode and Lithocode printing.
Numbering & Packing of OMR Sheets:
Sheets are uniquely numbered by Manual stamping or Digital printing. Litho Code & Barcode printing facility is also available.
Sheets are packed in lots of 50/100/200 depending upon the type of sheet & thickness. OMR Sheets are packed in Poly bags to keep safe from water / moisture.
These bags are finally packed in strong cardboard cartons and delivered via high speed Couriers or by hand.
Dispatch &Delivery of OMR Sheets:
OMR Sheets can either be delivered to client Office or directly to OMR Examination Centres. We have nationwide tie-ups with OMR printers which makes us able to deliver OMR sheets at short notices to anywhere in India at reasonable prices.
High Speed Scanning Equipment:
Addmen own multiple units of High Speed Scanners which can deliver high daily volumes. We can also cover up multiple (>10) locations simultaneously locations for zone wise distributed evaluation of big recruitment events.
Complete Recruitment Exams Solutions in India:
Mainly we cater to government recruitment exams and provide end-to-end solutions. We provide Recruitment Software free for collection of candidate data through online application forms and for generation of admit cards. Later the recruitment test can be conducted through the OMR Test Scanning Software. We also provide Online Exam Platform for conduct the MCQ test online on computer screens.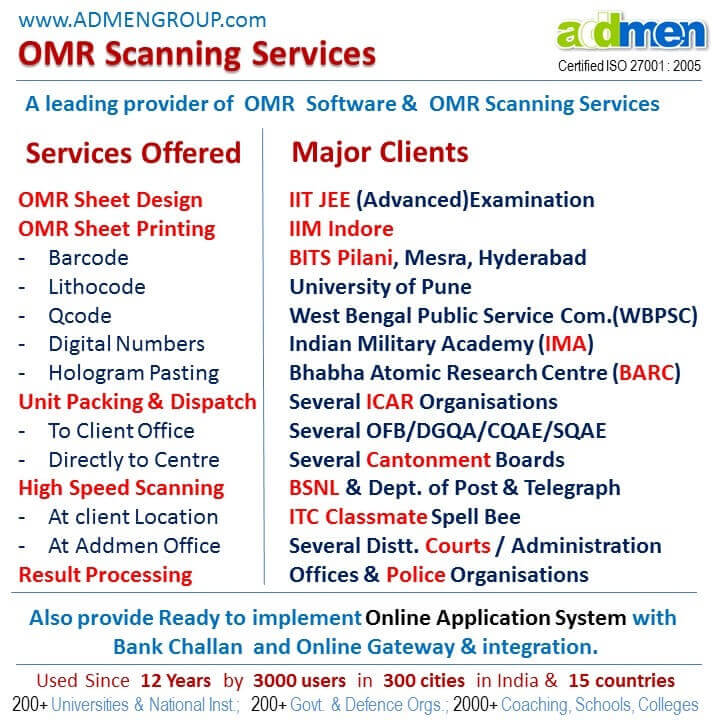 Read more:
Related Links: