Telephonic Lead Management
Most of the enquiries made in schools, colleges, universities, coaching institutes, etc are done through telephone because of its instant mode of communication. Unlike online enquiries, you get the information instantly on a telephone from any location without going to the institute. There is a heavy call load in such enquiry departments and it needs to be attended efficiently. The customers calling cannot wait for too long in the queue and this can affect the business of an education institute. ECAS (Enhanced Campus Automation System) helps you handle such telephonic lead management tasks very efficiently and without any errors.
How does the Telephonic Leads Management feature of Institute Management Software Work?
ECAS is a browser-based campus automation software that runs on the server and hence, it maintains large records of database that can be accessed through the same network or all over the internet. This is possible in a school automation software like ECAS which does an elaborate and dynamic search through the vast storage of database.

When a telephone call arrives on a designated number, the telephonic lead management module in ECAS identifies the telephone number and opens up the past communication record details for quick identification. You don't have to ask the customer the usual questions like name, address, purpose of enquiry, etc. Such automated enquiry management software saves lot of time and effort while handling previously registered enquiry calls.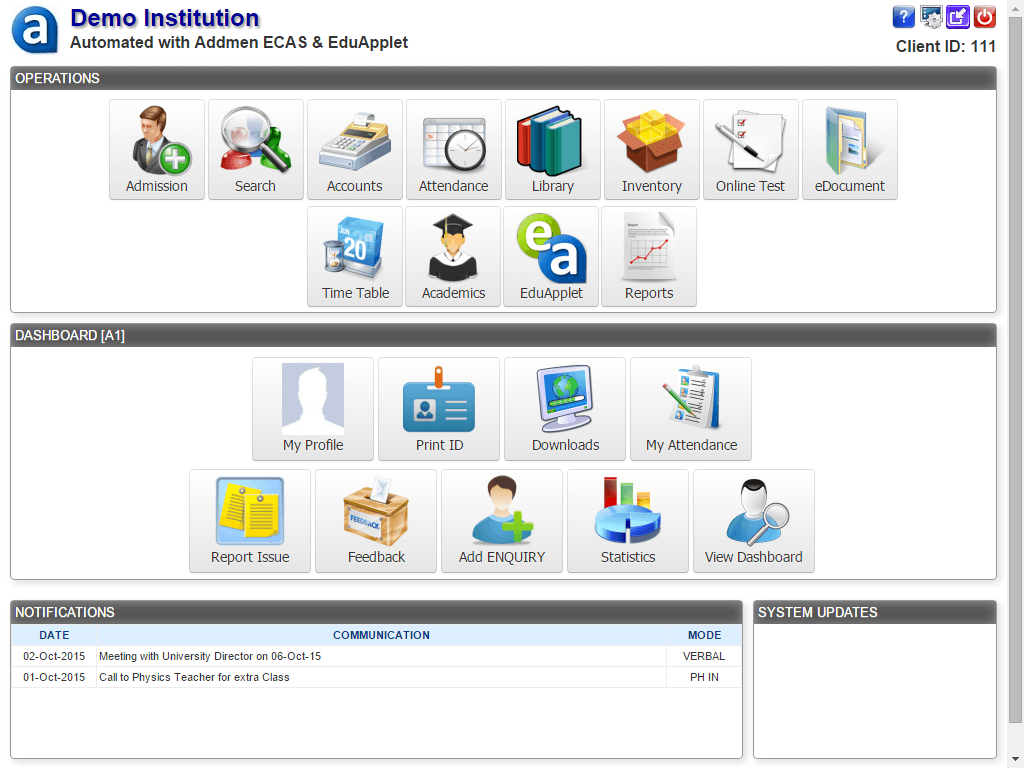 Features of Telephonic Leads Management in ECAS
Once the telephone number is identified, through the past communication record the enquiry registration page with all the personal details collected in the past details is opened for reference and further update.

Necessary information can be updated in the communication records and will appear in the latest communication logs in their next enquiry.

ECAS also displays candidate's registered alternate no. when a caller is identified by the system.

When the system identifies a new number, ECAS automatically open a new form for enquiry registration to save time of the enquiry official.

During heavy call load, a call will be automatically directed to idle lines or agents and so the customers don't have to wait too long in the call queue.

It is very important for an institute to generate business from the first enquiry call itself and so in some institutes, only experienced officials handle new or first time caller. In such cases, ECAS allows forwarding of calls to other agents immediately through the software.

With user rights and permissions, enquiry records registered in one branch can be accessed by an enquiry official from a different branch. Hence, the authority can pull up the records of the caller registered in a different branch and can guide them with utmost proficiency.
A lot of information is exchanged during enquiries regarding the institute, its course, fees, subjects, future development, etc. In telephonic enquiries, such huge amount of information needs documentation and a record of interactions needs to be maintained for future references. Apart from being the best school management software, ECAS provides a very versatile facility for leads management in institute management system.
Related Links: